Burgers Ordered: The Classic Burger, the Breakfast Burger, the Mushroom & Onion Burger, and the Guacamole Burger.
The Experience: To what lengths would you go for a great burger? What if you had dietary restrictions that made your typical burger experiences less than stellar? This week the Burgermeisters answered that question, at least for the kosher contingent of burger lovers.  Amsterdam Burger Co. is the newest addition to New York's kosher burger menu. Kosher burgers in New York tend to have two drawbacks: they're expensive and they typically don't taste good.  After hearing some good buzz for this new spot, which opened in the space occupied by the same owner's former pizzeria, the Burgermeisters decided they would give it a try.
The last kosher Burger Adventure was at Talia's, where the burgers were completely subpar and the service was bad. Things got off to a similarly rocky start at Amsterdam Burger Co. when the hostess was short and a bit rude with the Burgermeisters, who brought a party of six to the small burger joint. The service remained questionable when the food took 45 minutes to be served after being ordered.  The wait was painful, and it was not quelled by any bread on the table.  When the burgers were finally served, three of the six were served with mistakes. Luckily the mistakes were quickly taken care of by the incredibly nice waitress, but they felt like salt in the wound to the hungry Burgermeisters. Coming to this restaurant hungry turned out to be quite a mistake, so the burgers would have to be fantastic for the meal to be anything but a total wash.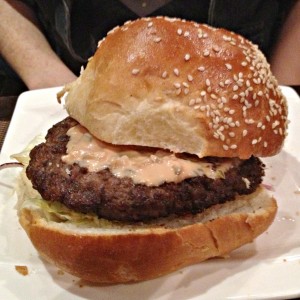 The Taste: Sara and Randi both ordered the Classic Burger. Sara found hers to be tasty but a little dull.  She found herself wishing she had ordered one of the more interesting burger options after tasting some of the beef bacon served on Ben's burger.  Randi's dietary restrictions went so far as to demand she order her burger with no bun. She was satisfied by the burger, but foundit to be overcooked and lacking in flavor.  She said that it wasn't any better or worse than other kosher burgers she's tried in New York restaurants, but felt that given the cost she'd rather just make her own at home.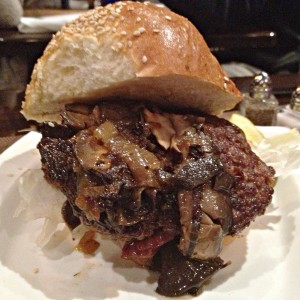 Ben and Rebecca both ordered the Mushroom & Onion burger and added beef bacon to their meal for a small charge. Rebecca said that the bun was perfectly sized for the thin burger. She wished that she had been given a choice on the preparation of the burger (all burgers at Amsterdam Burger Co. are served medium well) but the mushrooms, onion, bacon, and her placement of excessive condiments perfectly masked any flaws in the patty. She said she would dine at Amsterdam again and recommend the Mushroom & Onion. She mentioned that perhaps the burgers would have come out faster if they could be cooked to temperature, as it takes less time for a medium rare burger to be prepared than a medium well burger. That sounded like genius to everyone at the table.
Ben called his Mushroom & Onion burger huge and succulent. He said that the beef bacon added a rich flavor that was salty and crunchy. Though he was frustrated by the incredibly slow and mistake-filled service, the taste of the burger tamed his surly feelings and left him admitting that this was one of if not the best kosher burger he'd ever had.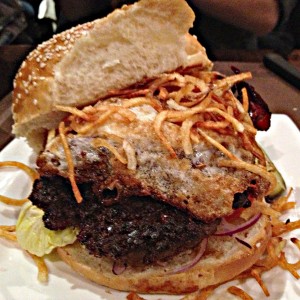 Brad, not used to what he was told was the typical bad service at kosher restaurants, was more than a little peeved at how long he was made to wait. However, like Ben, he had to admit that when his stomach was satiated it was hard to stay angry. Brad was shocked at how flavorful the patty on his Breakfast Burger was, given that it was cooked medium well and that it was kosher.  He enjoyed the salty beef bacon quite a bit, and said that it and the crunchy potato strings made the burger more fun.  Though he appreciated what Amsterdam was going for with the giant challah bun, he found it made the burger unnecessarily difficult to bite, and completely absorbed the fried egg that comes with the Breakfast Burger.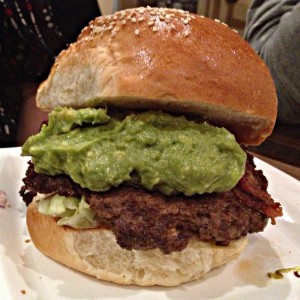 Alana said that her Guacamole burger with bacon was great, even though her pickle was missing.  She likes her patties cooked well so Amsterdam prepared it perfectly for her. She said that the guacamole complimented the burger well and made it taste special. Her favorite part of the burger was the beef bacon, which was crispy and added a nice flavor to the burger.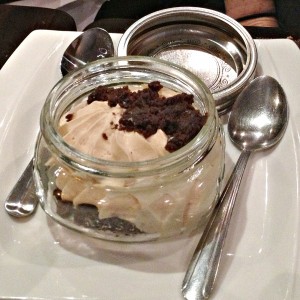 Ben and Sara finished the night with a dairy-free peanut butter mousse jar. Though parve (meaning no dairy and no meat) desserts are typically dry or otherwise bland-tasting, this dessert did the trick. Ben and Sara also got to take the jar home as a souvenir of their night out with Burger Weekly.  On top of that, everyone agreed that the fries were very tasty (and very, very fried).
The Verdict: If you don't keep kosher there are plenty of good burgers in New York City for you to choose from that don't have as many hurdles to jump to get to as Amsterdam Burger Co.  However, if you are looking for a good kosher burger and have patience (and a small bite to eat before you leave for the restaurant) then it would probably be worth it for you to go to Amsterdam and get yourself one of their specialty burgers.
Amsterdam Burger Co. is located at 654 Amsterdam Avenue at 92nd Street.