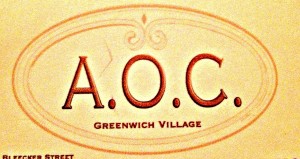 Oui Oui
Burgers Ordered: Le Burger au Fromage et Bacon, Le Burger au Fromage Roquefort et Bacon, Le Burger au Fromage et Bacon et Oeuf Sur le Plat.
The Experience: When did getting a burger in the West Village on a Thursday night become such a difficult challenge?  The Burgermeisters originally tried to go to both Kingswood and Little Owl to knock one of them off of their ever-imposing Upcoming Adventures list, but both had incredibly long waits.  Burgermeister Vanessa stormed into A.O.C. after the restaurant hopping got to be too much for her, and luckily for everyone else there were burgers to be had inside.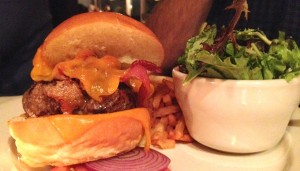 Though the service wasn't exactly swift, the Burgermeisters' waitress was warm, friendly and accommodating for what must have been a peculiar and rare burgers-only dining experience at A.O.C.
The Taste: Toby, who got his bacon cheeseburger with a fried egg, said that his burger was like the Kentucky Derby; it raced strong out of the gate with delicious aplomb (perhaps the most pretentious word ever used to describe a burger on Burger Weekly), but then began to slow when the patty didn't maintain the distinct flavor that he expected.  He did very much enjoy the egg and cheese, saying that overall it was a pleasurable experience.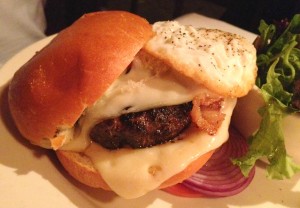 Vanessa and Kate both ordered bacon Roqueford cheeseburgers.  This of course kept Brad from even trying to steal any of their fries.  Piggybacking off of Toby's analogy, Kate called her's the Secretariat of burgers.  She'd never tried a medium rare burger before and didn't intend to try one at A.O.C., but she was accidentally served Vanessa's patty.  She liked it so much she might convert to medium rare full time.  Vanessa's happy accident was bacon on her burger, which she also enjoyed.
Brad liked his standard bacon cheeseburger with cheddar cheese quite a bit.  He had been the most worried about trying an unknown burger at a more upscale restaurant because the price wasn't very high and to him that seemed suspicious.  His worries were for naught when the burger was delicious, with a flavorful patty, high-quality and well-cooked bacon, and wonderfully melted cheese.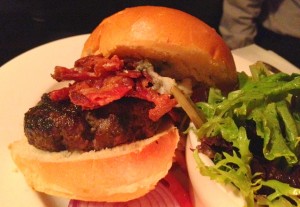 Finally, everyone agreed that the accompanying frites were fantastic, as were the lightly glazed buns. The side salads were hardly touched.  Who needs rabbit food?
The Verdict: The service was a bit slow, even worse for some of the neighboring parties, but the food was top notch.  The Burgermeisters ended up at A.O.C. quite accidentally, but none of them left regretting their spontaneous decision to eat there.
A.O.C. is located at 314 Bleecker St on the corner of Grove.