A Burger Scene in Fort Greene
Burgers Ordered: Brad – The Ranch; Matt – The Cheese Lover
The Experience: Brad and Matt have both spent time as Brooklyn residents, but to look at THE MAP you'd think they were downright afraid of the borough. Though renowned for excellent food and young neighborhoods, the Burgermeisters have only been on a couple Brooklyn-centric Burger Adventures. Neither felt comfortable with this, so they decided to spend a Saturday night grabbing a bite in Fort Greene before the night's typical festivities.
When they arrived, 67 Burger was PACKED. Customers order their burger off of a very deep menu at the counter and then have a seat and wait for their food to be served to them. Brad and Matt both felt overwhelmed by the size and depth of the menu by the time they got to the front of the line. It didn't help that when they looked around they couldn't see a place to sit! Then the menu spoke to them both, and Brad miraculously poached a table.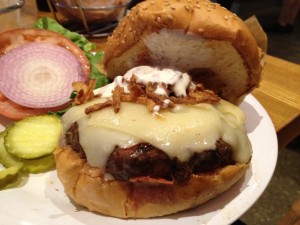 Ranch dressing is everything.
The Taste: As a Midwest transplant, Brad is almost as dedicated to the search for good ranch dressing as he is to the search for amazing hamburgers.  When he saw that 67 Burger had a Ranch Burger it was all over.  While the fried onions, Swiss cheese and bun served well on this hamburger, it was the ranch that saved the burger from the mediocrity of the flavorless patty.  That's not to say that the patty was bad; it had an excellent texture and was quite tender.  But the lack of any kind of seasoning left Brad woefully disappointed in the bites without ranch dressing.
Matt felt the same way about his Cheese Lover.  He reveled in the pepper jack, cheddar, and Swiss cheeses that adorned his burger, but was very quick to point out the bland patty.  Luckily the serviceable french fries and sweet potato fries that Brad and Matt ordered kept both Burgermeisters from being too disappointed in 67 burger.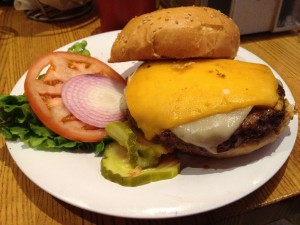 All the cheese in the world…
The Verdict: The Burgermeisters were hard pressed to explain why 67 Burger was so jam packed on this Saturday evening.  The burgers are topped with delicious accouterments, but ultimately because of the blandness of the patty the entire burger fell flat.

67 Burger is located at 234 Flatbush Avenue at Bergen Street.