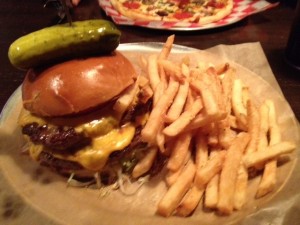 An Insult to Mother's Everywhere
Burger Ordered:  Christopher – The Sixth Guy Burger
The Experience: Your Mother's House is a sit down, large scale sports bar in the mode of a Chili's or Applebee's except that it's independently owned and has a lot more TVs including a HUGE one at the far end of the restaurant. The service is friendly and the waiter culture is your standard t-shirt & jeans affair.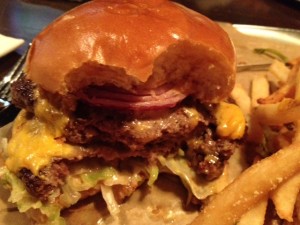 In the interest of full disclosure, Christopher admits he had tried a different burger at Your Mother's House back when they first opened this winter. He decided to not put in a Foreign Affairs report back then in an effort to give them a chance to find their footing. He returned to the restaurant twice more and was hesitant to try another one of their burgers. This time, at the urging of his Mrs., he decided to give them another shot.
In attempt to drown his sorrow at the Azzurri's heart breaking loss to the Spaniards in the UEFA 2012 Final, Christopher ordered the tongue-in-cheek-named Sixth Guy Burger (there is a Five Guys around the corner). Said burger features 2 all-beef patties, fancy sauce, lettuce, American cheese, pickles and onions all on a brioche bun. Christopher asked for it prepared medium rare. The burger is served with pub fries.  At first glance it looked pretty good, the patties were a good size and the amount of rabbit food was not overwhelming.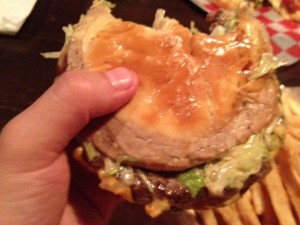 The Taste:  Sadly, as soon as Christopher picked the burger up his expectations dropped.  The bottom bun was already soggy and his hand was instantly greasy. He took one bite and then another and realized that his burger was just barely what could be considered medium rare, and also realized that the grease quantity was insane. His lovely wife remarked, "That looks like bathroom trouble, and you can quote me on that." The special sauce wasn't special and the burger could have been made at Wendy's for all the flavor that it possessed. Christopher found himself wishing they HAD gone to Five Guys. He shook his head repeatedly as he powered through his burger. He barely picked at his fries, again wishing they had gone to 5 Guys where the fries are much superior.
The Verdict:  Your Mother's House is a cool place to watch a sporting event, and they have very good wings and decent fried Oreos.  What they do not have is a decent burger.
Your Mother's House is located at 2349 Jericho Turnpike inGarden City Park,NY