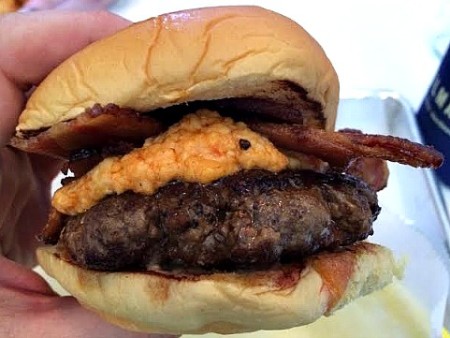 A burger meal at Wilma Jean had eluded me for months before I finally got what I wanted. For a time, the restaurant was closed on Mondays, which was of course the day of the week I tried to go on my first attempt. Then about a month ago, I made a reservation on Open Table at what I thought was Wilma Jean, but what turned out to be a place called Willa Jean in New Orleans. So that was dumb. Two weeks ago, I walked in there with a couple of buddies and snagged a table at brunch. Excited by the trill of conquest, we ordered fried pickles, loaded tots, and pimento topped burgers. This was going to be serious business. 
Burger Ordered: The Single Burger
The Taste: It positively baffles me that more restaurants don't offer pimento cheese as a burger topper, especially in the age of Instagram. Not only does it taste amazing with beef, but it's bright and gooey and ideal for food porn photos. On a potato roll with crispy bacon the cheese was also the perfect balance from a flavor perspective. I'll be honest and admit that I had a few Bad Seed ciders when I ate this, and was a little tipsy, but my enthusiasm transcends alcohol (I assume).
The Verdict: Wilma Jean has a great, casual atmosphere and an outstanding burger (that you can get as a double pattied beast as well). It is well worth the trip to Brooklyn.
Wilma Jean is located at 345 Smith Street in Brooklyn, New York.
Sign up for Burger Weekly email updates!