Burgers Ordered: PB & B Burger, Juicy Lucy and the Poblano Pepper Burger Special.
The Experience: Being a transplant into New York City, Brad never developed a strong loyalty to any particular neighborhood in Manhattan.  In his time in New York he has lived in Harlem, Morningside Heights, the Upper West Side, Hell's Kitchen and Williamsburg.  Throughout his residential journeys he has had his share of roommates.  The greatest positive to come from living in so many apartments: having plenty of people to con into being Guest Burgermeisters.  When former UWS roommates Penny returned to NYC on vacation from her home in London, Brad invited her, Federico, and Alicia, all former residents of the Upper West apartment, down to the East Village to try out a much-talked-about burger joint.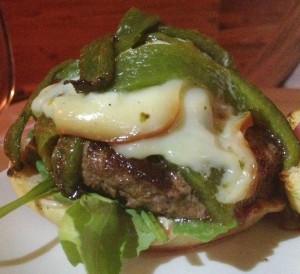 Whitman's is a two-floor restaurant, with no more than half a dozen tables upstairs, and a handful more in the basement.  The vibe is casual and the wait staff is incredibly enthusiastic about their burgers.  While Alicia, Federico and Penny were all fairly confident about their burger orders, Brad was a little skeptical about getting peanut butter on his burger.  The waitress assured him that it was a huge seller, so he decided to live dangerously.
The Taste: Whitman's regularly serves special burgers in addition to their usual menu.  Penny ordered a burger with poblano peppers, red onion, and gruyere cheese.  She said the burger was cooked perfectly and that the onion added a nice, sweet flavor. She liked the noticeable but far-from-overpowering spice that the peppers added to the burger.  Every the fan of gruyere cheese, she found the burger to have an amazing sweet and savory combo.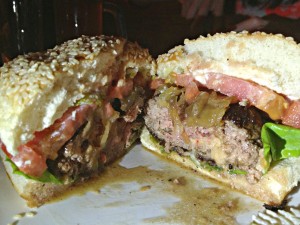 Alicia and Federico both went with Whitman's signature Juicy Lucy. Federico enjoyed the way the pimento cheese melted stuffed within the short rib blend patty. The patty itself had a fantastic crispy grill taste on the outside while being tender on the inside, despite not being cooked to order (as is the case with most stuffed burgers). Alicia had the same compliments for the Juicy Lucy that Federico had, but noted that the sesame seed bun was a little dry and that there was too much tomato for her liking.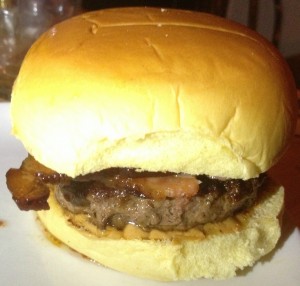 Brad was very happy that he trusted the waitress and got the peanut butter burger. The taste of the peanut butter, juxtaposed against the fantastic bacon. Bites of the burger without the bacon were less delicious, but still enjoyable.  The bun wasn't anything special, but with a burger like this there's really no focal point other than the peanut butter.
The Verdict: The burgers at Whitman's are far from massive, but what they lack in size they more than make up for in taste and creativity.  This joint is definitely worth a shot for the adventurous Little Meister.
Whitman's is located at 406 East 9th Street between 1st Avenue & Avenue A.