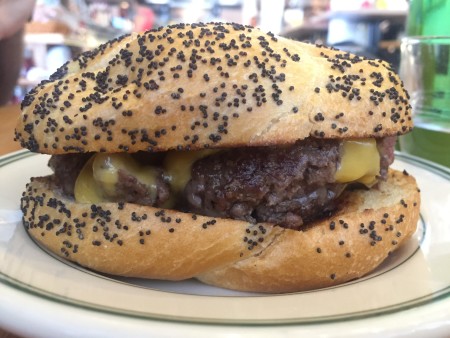 So, a chopped cheese sandwich isn't really a burger, but for the purposes of this review I'm going to say that it is, and I'm going to lay out a few defenses as to why. For one thing, the ingredients/components in a chopped cheese sandwich are exactly the same as in a burger. The only difference is that the patty is chopped up while it's being grilled. Basically, if you think a loose meat burger is a burger, than you have to consider this a burger. Also, just look at the photo of the chopped cheese sandwich at White Gold. It totally looks like a burger! Okay, that's enough. Now let's move passed this and the fact that proprietors of more authentic chopped cheese sandwiches uptown are really upset that an $11 version exists on the Upper West Side. I don't really have the time or authority to touch on those things, and I really just want to tell you whether or not this "burger" is great.
Burger Ordered: Chopped Cheese Sandwich
The Taste; The chopped cheese is topped with jalapeno and pickle on a poppy seed bun. And it's great. I've had my mixed feelings about April Bloomfield's burger offerings before, but this one is undoubtedly great. The meat is incredibly flavorful, and the crunchy veggies help balance the gooey cheese. Further, when I went to the restaurant shortly after it opened, the service was really bad. So bad that I wrote an episode of a podcast about it. But this time around, the service was impeccable.
The Verdict: Now that the crowds have died down, White Gold has become a great place to get a chopped cheese sandwich.
White Gold is located at 375 Amsterdam Avenue in Manhattan, New York.
Sign up for Burger Weekly email updates!