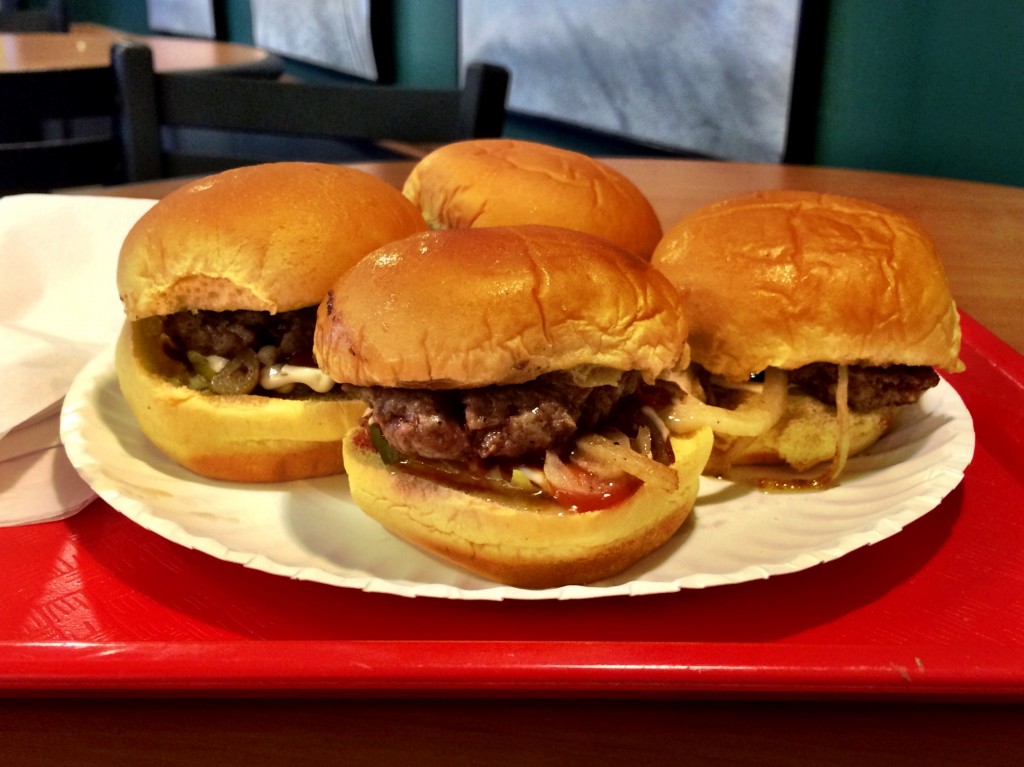 The Experience: After last week's Burger Adventure at Mark, I became obsessed with finding other burger joints in New York that serve authentic sliders. I asked around and tweeted, looking for such a place. Almost nobody answered. Luckily, I live two blocks away from a slider joint.
White Burger isn't a restaurant in its own right, but rather a grill serving up sliders within a Subway sandwich shop. It is a Brooklyn secret in my favorite kind of way. Rather than being pretentiously hidden but known to every douche bag in town (thus crowding the joint) thanks to aggressively-gathered press, White Burger is hidden because the marketing used to attract customers only reaches those in the neighborhood. If you don't live in Greenpoint, you're not going to see the sign on the sidewalk advertising four burgers for five dollars. If you don't know someone who has eaten there, no Manhattan food snob or food website is going to tell you about the authentic sliders being grilled within.
Burger Conquest wrote a generous review of it a couple years ago, and Grub Street once gave it once sentence-worth of attention in a list about cheeseburgers (though didn't give any attention to the fact that it's one of the few real slider joints in the five boroughs). Even White Burger's own website is hidden, tucked on the second page of Google because of rotten SEO. It is hard to find on Foursquare and Swarm because it's paired with the Subway that hosts it. It's not open year-round (twice I walked in and was told to come back in two weeks). And the owners are eastern European. So basically, there was no way I wasn't going to love it.
Burgers Ordered: Four Sliders
The Taste: Were these as good as the burgers I had last week at Mark? Not quite. For one thing, they came with ketchup on them. Combined with the mayo, these little suckers were messier than they needed to be. Don't get me wrong, I like mayo. I especially like it in cases like this, paired with pickles. The beef wasn't overcooked, which I appreciated. I was most pleased with the by-the-book way in which the sliders were grilled. Onions and bun were both steamed along with the patty. The lovely woman behind the grill absolutely knew what she was doing.
The Verdict: So far, this is Brooklyn's only authentic slider joint to my knowledge and it represents its kind in respectable fashion.
White Burger. is located at 650 Manhattan Ave in Brooklyn, New York.