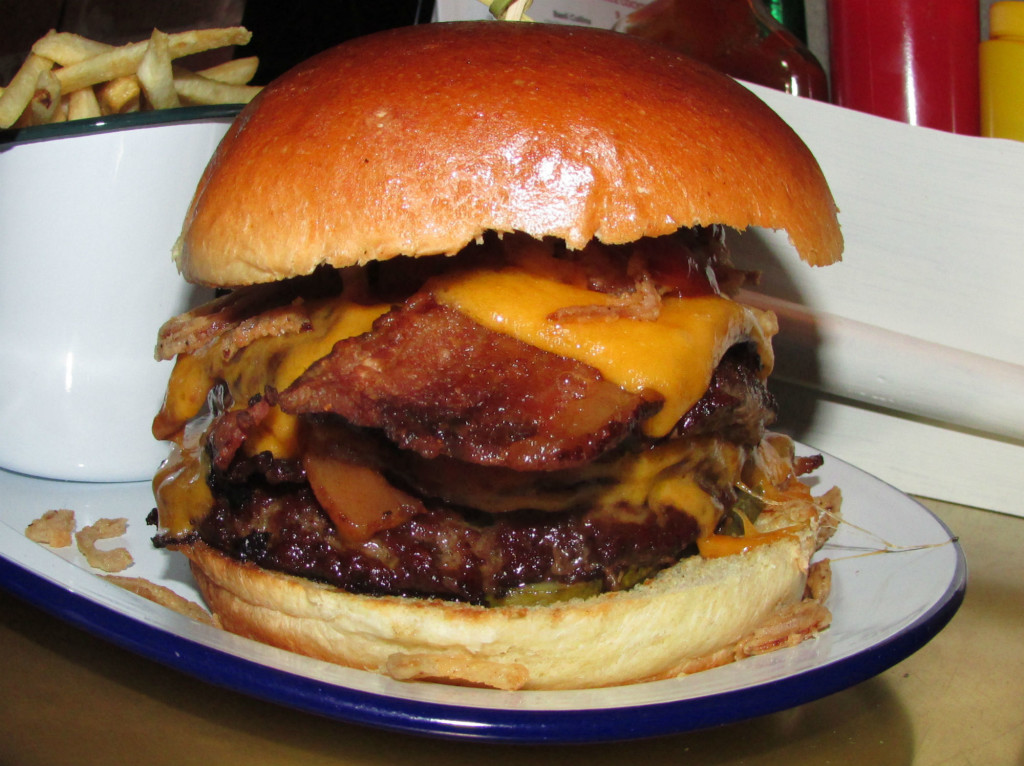 The Experience: I'm not going to be able to do a better job at summing up the history of this space than Greenpointers did when it opened, so I'll just stick to the burger and keep it in my wheelhouse. On a long stroll combing the neighborhood, I came upon Whiskey Burger (and the aforementioned Greenpointers article posted on its window), and was confused as to how a restaurant with "burger" in its name came to exist without my knowledge so close to my apartment. I like both of those things, so I went inside to eat and drink irresponsibly.
Burger Ordered: The Whiskey Burger
The Taste: The namesake burger is topped with two patties, cheddar cheese, bacon, frizzled shallots, pickles and Whiskey Sauce. The sauce was the real star of the show. It had a great smokey, barbecue flavor and an incredible tang that was very memorable. So memorable that I have been hearing the word "tang" over and over in my head for days. It is a no-nonsense burger that will leave you wanting to walk around the neighborhood to feel normal again afterwards. The shallots gave the burger a nice crunch, which was a nice compliment to the supple bun. The fries were also solid, and made even more delicious when dipped in the tangy sauce. Have I said tang enough yet?
The Verdict: I had never visited this space when it was Mark Bar, but Whiskey Burger is a hell of a little burger joint. Greenpoint is becoming a force in the Brooklyn burger world.
Whiskey Burger is located at 1025 Manhattan Avenue in Brooklyn, New York.
Sign up for Burger Weekly email updates!