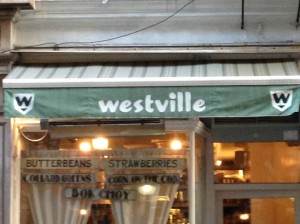 Tiny place, big taste.
Burgers Ordered: Brad – Cheeseburger; Matt – Bacon Cheeseburger.
The Experience: The West Village is becoming a second home to the Burgermeisters. It's actually a good thing that living there is prohibitively expensive, because Matt and Brad would know doubt be fat lards if they made the neighborhood their home. A look at the Burger Map reveals the delicious, famous, and famously delicious burger joints that pepper this corner of New York City. As such it's not surprising that the Burgermeisters spent yet another night Burger Adventuring in the area.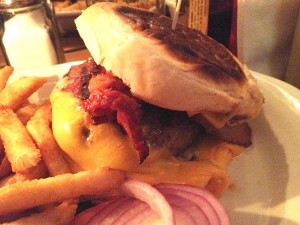 Off-menu bacon = brilliant.
Westville has grown popular enough to warrant three locations, but Brad and Matt wanted to visit the original. What they didn't know is that the reason they need extra locations is because their original is TINY. The Burgermeisters arrived just in the nick of time, as a huge line formed behind them and filled the squee-inducing sign-in sheet.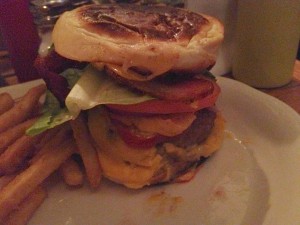 Stacked high, as Matt is apt to do.
The Taste: Westville only has one hamburger on their menu, but they give their customers options for modification. Brad ordered his with Swiss cheese. Matt got his with American cheese and then went off-menu and asked if bacon could be added.
Matt had a few issues with his burger, but overall enjoyed the experience. He felt that the bacon, while thick and moist, was a little salty and distracting. Brad took a bite of the bacon and thought it was marvelous. He instantly became regretful that he didn't order it as well. Matt also felt that while the patty wasn't the most flavorful, it was sufficiently juicy and brawny. It wasn't cooked exactly to his liking, so in the end he was glad that the bacon was there to add some extra jazz.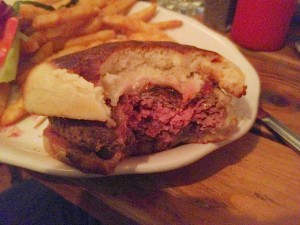 Bun of Beauty.
Matt's burger came oozing with American cheese. Much of it had drizzled onto the plate, but some rearranging allowed him to accomplish his signature stack. When all was said and done Matt was using a fork to get at the meat scraps on his plate, giving the burger his seal of approval.
Brad could not get over the look and taste of the Portuguese muffin within which Westville's burger is served. After the Burger Adventure at the Spotted Pig, the Burgermeisters learned a lesson; even a beautiful burger can be hiding a funky secret. Westville's bun was both a sight to behold and a delight to consume. Brad's patty was incredibly juicy and cooked exactly as he ordered it. Though he did wish he'd thrown some bacon on there, the rabbit food, ketchup, and mayo that he did have were more than enough to make him a happy camper.
The Verdict: Both Burgermeisters left satisfied but not overstuffed.  The eight ounces of meat they'd consumed were seemingly the perfect amount for the night.  Brad and Matt strongly encourage you to pick a Westville location and try it out as soon as you can.
Westville is located at 210 West 10th Street at Bleecker.