25 Years of Burger Bliss |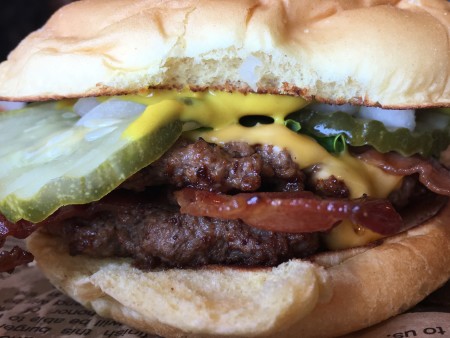 Last month, I ran a Spartan Sprint. For people wondering why I'm not obese, it's because I put myself through sucky experiences like obstacle course races on a mountain. The bright side of a race like that is the amount of "treating yo'self" you do after it's over. In my case, it was a very indulgent trip to Wayback Burgers a short drive from the race. Wayback Burgers has had many names throughout its long existence, but their burgers were consistent and hit the mark.Burger Ordered: The Double Bacon
The Taste: Sometimes I worry when I go to burger chains that the meat is going to be frozen and the experience on the whole will be uninspiring. I'll admit that I was coming in famished after the race, but this burger hit every note necessary. The beef, from Wolverine Packing in Michigan, was tender and juicy. The bacon was just the salty slap that I needed. The cheese and pickle melted together in my mouth, making the whole experience very enjoyable.
As for potatoes, Wayback is nailing that game. From the homemade, complimentary chips to start the meal to the loaded up fries, Wayback's tater game is seriously on point.
The Verdict: This was the perfect post-race treat. You could do a lot worse than having a Wayback Burger in your belly while you soak your muscles in the tub.
Wayback Burger is located at Wayback Burgers, 816 New York 17M in Monroe, New York.
Sign up for Burger Weekly email updates!