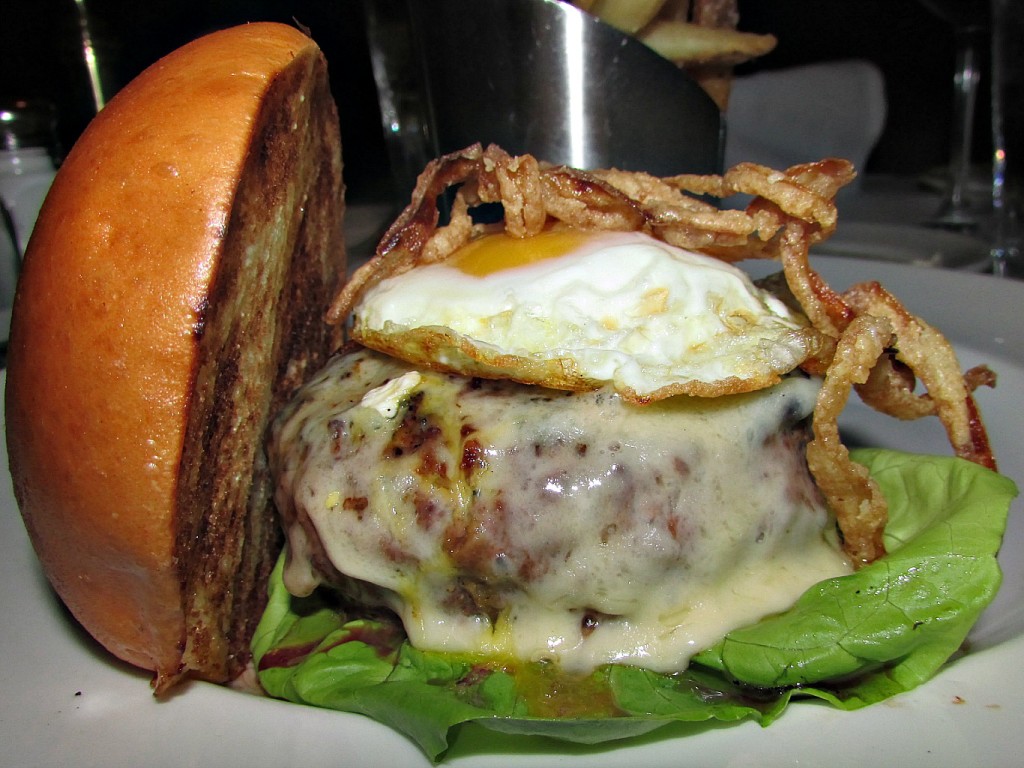 You might hear, and possibly rightfully so, that Wagyu beef is little more than a price-enhancer when it comes to burgers, because the texture benefits of Wagyu are lost when the meat is ground. Still, Wagyu burgers are ubiquitous, and fair game for alliterative promotions.
Capital Grille, a chain of steakhouses with over 50 locations (three in New York City alone) at my last count, is offering a choice of two Wagyu beef burgers paired with a glass of wine for $25 dollars until November 22. I popped into the FiDi location's lounge to see if the discounted beef and vino were worth the time and dough.
Both burgers were rich, and tasted different enough from a standard steakhouse burger to catch my attention. To accomplish this, one burger is topped with egg, cheese and crispy onions, while the other is covered in gorgonzola and black truffle. I preferred the egg and cheeseburger, as the truffle burger was almost too flavorful when paired with both the wine and the truffle fries.
So is it worth it? Most definitely. Capital Grille's standard sirloin burger costs $19, and you can expect a Wagyu burger on their regular menu would cost even more. That's a hell of a deal on a nice glass of red (cab sav or pinot noir), and a hearty burger to boot.
Capital Grille is located at 120 Broadway in Manhattan, New York.
Sign up for Burger Weekly email updates!