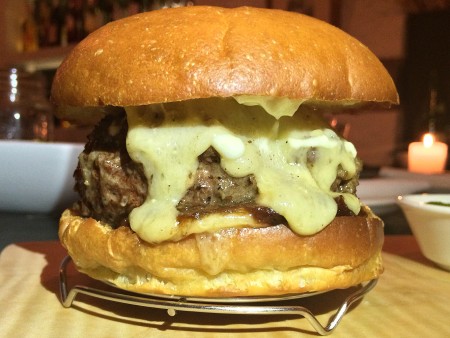 The Experience: I started Burger Weekly in the summer of 2011. I was working at the 92nd Street Y, and one of my coworkers was a girl we called Lunchpail, though for the life of me I can't remember why. Anyway, years later it turns out that Lunchpail's boyfriend opened up Virginia's, a newish spot in Alphabet City. Everyone and their mother had been saying that the burger at this joint was insane, so when Lunchpail corroborated that story, it was a no-brainer to check it out.
Burger Ordered: Virginia's Burger
The Taste: This sucker is nuts with flavor. The succulent succulent short rib/hanger steak blend patty, the absurdly savory Vidalia onion marmalade, the smack-you-in-the-face cabot cheddar, and the sturdy but pliable bun make for a burger that I couldn't deny a spot on my best of 2015 list, despite the fact that I ate it only four days before writing said list.
The Verdict: It's one of the 10 best burgers of 2015! I don't think much more needs to be said.
 Virginia's is located at 647 East 11th Street in Manhattan, New York.
Sign up for Burger Weekly email updates!