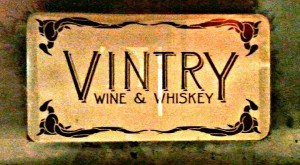 Good things come in small packages.
Burgers Ordered: Brad – Kobe Beef Burger
The Experience: Brad hadn't planned on eating a burger at Vintry, he had just planned to go there for a drink after work.  But when Sarah, a resident of the neighborhood, told him how foolish he'd be to pass up the chance to try the restaurant's Kobe Beef Burger, he was intrigued.
Vintry is located on Stone Street, a very special place in New York City.  Located in the middle of the Financial District, Stone Street is always packed at lunch time and full of freshly released suit-wearers looking for a drink at dinner.  It's cobblestone paving gives it its name, and it is a welcome escape from its largely soulless surroundings.
Brad had been to other spots on Stone Street for lunch with glorious results; Adrienne's in particular is unbeatable if one is looking for an amazing pizza meal (we say meal and not slice because you can only order by the pie).  As it would turn out, Vintry would be another Stone Street victory.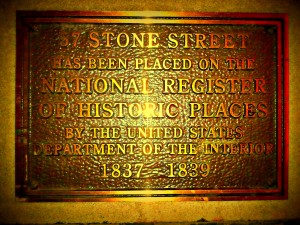 Nothing like eating in a historic building.
The Taste: Brad was wary of Vintry's burger.  His first fear was the the 5 ounce patty would not be enough to satisfy him, and that because of its small size the restaurant would not be able to cook it to order.  Brad was pleasantly surprised when he was asked how he wanted the burger prepared, and delighted when it was delivered to him medium rare as promised.
The patty, topped with gruyère cheese & wild mushrooms, was incredibly flavorful.  Sarah, who refused to take a bite of the small burger because of its supposed flavor-bomb stature, had told Brad not to be surprised by the intense sensations that would be coming his way.  All of the ingredients were distinguishable on their own while simultaneously complimenting one another.  Though Brad is known as an enemy toward Rabbit Food, he felt it was safe to adorn the small burger with the lettuce and cherry tomato provided.  The result was marvelous.
Brad swooned embarrassingly with every bite, possibly gaining the attention of his neighbors at the bench-style table.  With his last bite he decided that the lightly buttered bun was the piece that brought the entire meal together.  The patty was incredibly juicy, but the small bun held together and never wavered.  The one flaw in Vintry's operation became incredibly clear however; while they cook a napkin-necessary burger, the cloth napkin they provide is almost comically small.  Perhaps Vintry should invest in a special series of larger napkins just for those who order the burger.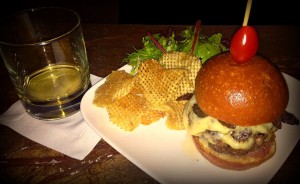 A little burger – a big punch.
Though Vintry offers a selection of whiskey and scotch from around the world, Brad felt it would be appropriate to be daring and try a Japanese selection.  Knowing nothing of Japanese whisky, Brad picked the one he recognized from Bill Murray's pandering in the movie Lost in Translation. It ended up being a delightful compliment to his burger and waffle chips.  He also stole a bite of one of Sarah's tuna tartar tacos and was taken by its flavor as well.
The Verdict: Though somewhat steep at $14 for a 5 ounce burger, you have to expect to be slightly gouged in the Financial District for the neighborhood.  The whiskey is good (and supposedly so is the wine), so if you're looking for a stiff drink and a powerfully tasty burger that won't leave you feeling overstuffed or impede your ability to become inebriated, you'll enjoy your Vintry experience.
Vintry is located at 57 Stone Street between Broad St & Hanover Sq.