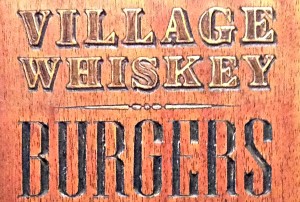 Burger Ordered: Village Burger
The Experience: Everything about this place is very well done. It's a relatively small space with an old-timey feel. The atmosphere is lively, the tunes are good, the food is tremendous and the prices are reasonable. However, they don't take reservations, so the Burgermeisters ended up waiting a half hour to be seated. They said that they'd have gladly waited two hours for the bounty they were about to receive.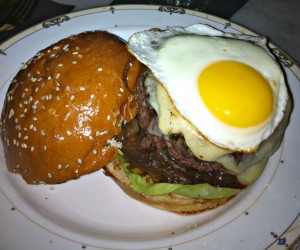 The Taste: As expected, Chef Jose Garces did not disappoint. The Village Burger came perfectly cooked, with the middle a velvety purple color that brought a tear to the Burgermeisters' eyes. We're not talking about a flimsy burger here, this is a thick 8 oz. slab of sustainable farm-raised Angus sourced from Maine, so you know it's good. The burger is impossibly juicy, it's not even fair. The onions looked as though they had been griddled for hours such that they took on a deep cherry hue and brought a distinct sweetness that balanced the savory elements of the meat and fried egg perfectly. Slightly disappointed initially by the absence of a wide variety of cheese options, the Burgermeisters settled on the cheddar from Jasper Hill farm in Vermont. They did not regret this decision—the cheese brought sharpness and an unctuous quality to the burger. If forced, on pain of death, to identify a development area, one could argue that the burger was somewhat messy and lacked cohesion. Additionally, while the brioche bun came pre-coated with a homemade thousand island, it could have been that much better had it been lightly toasted. Despite all this, the Burgermeisters licked their plates clean. Village Whiskey doesn't put ketchup on the table, and that's because they know you don't need it.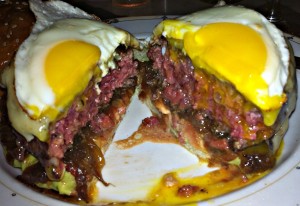 The burger was accompanied by a solid portion of thick-cut duck fat fries. These crispy, golden, appropriately-salted nuggets of joy could not be ignored, even on a full stomach. Though several rogue fries remained, the busboy assumed that the Burgermeisters were done and began clearing the plates, but Burgermeister #2 wisely salvaged them before further damage was done.
The Verdict: Not only is the burger nearly flawless (it remains this particular Burgermeister's favorite burger on Earth), but the atmosphere is warm and vibrant. And don't even get the Burgermeisters started on the cocktails. They left Village Whiskey in burger bliss and promptly fell asleep due to intense symptoms of food coma. If you are ever in Philadelphia, absolutely stop by this little gem in the heart of Center City, but build in at least a half hour of buffer time as it's unlikely you'll be seated immediately. Your patience will be rewarded.
Village Whiskey is located at 118 South 20th Street, at Sansom Street in Philadelphia, Pennsylvania.