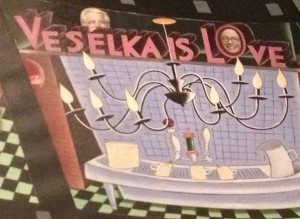 The Ukraine is Insane for Burgers
Burgers Ordered: Brad – Southwest Bison Burger; Zach – Lean Ground Chuck Burger
The Experience: Burgermeister Brad was lounging around doing not much of anything at work when his cousin Zach let him know that he was going to be visiting New York that evening. Surprise! The great thing about being a Burgermeister is that there are burger joints to try everywhere in New York. So Brad consulted the Upcoming Adventures list and picked a much-anticipated Burger Adventure near where Zach was staying.
Veselka is a Ukrainian restaurant open 24 hours a day. It looks like your typical open-late New York diner, if a little bit larger and cleaner. The restaurant's walls are wallpapered with Ukrainian style (or so we assume) and the male wait staff was accented up appropriately. They were also very accommodating, finding BBQ sauce for Zach despite not typically carrying the stuff.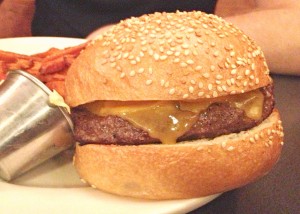 The Taste: Both burgers tasted fantastic, but after trying a bit of Zach's burger, Brad realized there wasn't much of a difference between the bison and the ground chuck. It made little matter, however, as both patties were cooked perfectly to order (Brad's incredibly pink medium rare, Zach's expertly cooked medium), and had a fantastic flame broiled flavor.
Brad's Southwest Bison Burger was topped with pepper jack cheese, chipotle mayonnaise, lettuce, and tomato. The chipotle mayo was a perfect sauce for both the burger and the side of deliciously crispy fries. The pepper jack cheese melted just right, and the brioche bun from Amy's Bread was fluffy and supportive, without overwhelming the rest of the meal.
Zach's burger was topped with cheddar cheese, adding fantastic flavor and melted nicely. The aforementioned BBQ sauce was used to dip Zach's sweet potato fries, a combo that blew Brad's mind. Brad vowed that sweet potato fries would be dipped in BBQ sauce from now on. Zach liked the pickles that came on his burger so much that he ordered a small plate of them to cleanse his palate at the end of the meal.
The Verdict: Veselka is the safest of bets when it comes to a nighttime burger. The spot is open at all hours, the burgers are spectacular, and the wait staff is friendly as can be.