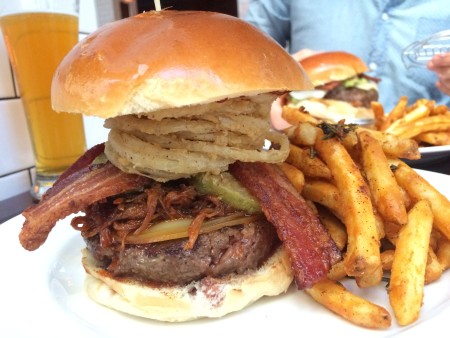 Have you heard of Hudson Square? It's a neighborhood in Manhattan. I hadn't, and I've been living in New York for almost a decade. It's just west of SoHo, and within it lies Union Bar & KItchen, a restaurant that is secretly serving a couple of the best burgers I've had in quite a while.
Chef Jonathan Renert only makes these burgers by special request on weekdays for lunch and weekends at brunch. UBK regulars love it, so Renert doesn't advertise it too much in order to keep it "special" for them. Well, now that I've had it the cat is out of the bag, because y'all need to try these suckers.

Burgers Ordered: El Sucio Grande and the Gettysburger.
The Taste: El Sucio Grande, pictured below, is comprised of a sirloin/brisket blend patty, guac, cheddar cheese, applewood smoked bacon, a fried egg, fried pickled jalapeños, housemade ghost pepper suace, and a brioche bun. I was worried that that ghost pepper sauce would set my mouth on fire, but it was actually quite sweet. Don't get me wrong, this burger was spicy, but that spice was offset by the guacamole and complimented by the bacon. The patty was one of the most supple I've ever had. It melted so quickly in my mouth that I almost stopped believing that it existed in the first place.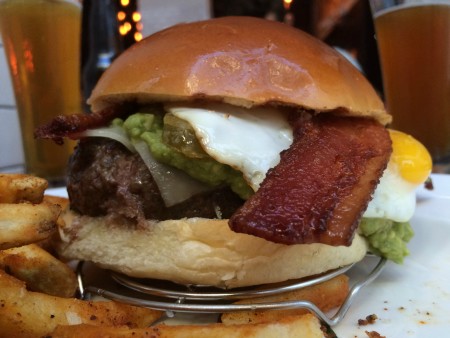 The Gettysburger, pictured at the top of this post, was a beast of a meal. It was centered around the same brisket/sirloin patty, but topped with slow roasted carnitas, buttermilk frizzled onions, smoked gouda, fried pickles, applewood smoked bacon, and housemade smoky sweet barbecue sauce. I'm not sure how I'm going to eat other Texas-style burgers after this, because it's sort of the ultimate in cheddar and barbecue-topped hamburgers.
The Verdict: Discover Hudson Square. Discover Union Bar & Kitchen. Pop in for lunch or brunch and tell them you want El Sucio Grande and the Gettysburger. And tell them I sent you.
Union Bar & Kitchen is located at 300 Spring Street in Manhattan, New York.
Sign up for Burger Weekly email updates!