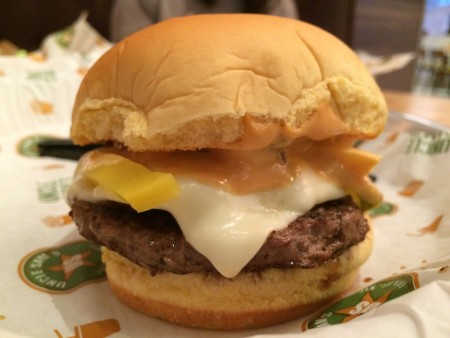 The Experience: You know what I can't stand about the larger food websites servicing New York City? Cynicism. Before visiting Uncle Sam's Burgers, a new fast-casual outpost on 5th Avenue that originated in China, I read a few articles about the restaurant's opening on the typical larger sites. What I found was coverage ranging from dismissive to insulting, and in one case a little bit racist. Perhaps the boisterous claim that Uncle Sam's would be able to compete with burger powerhouses and neighbors Shake Shack and Smashburger was grandiose, inviting backlash on the restaurant before it even opened. But even so, I personally am more inclined to feel hype before I try something, and react cynically only after I've been disappointed. That paid off for me at Uncle Sam's, because I wasn't disappointed at all.
Burger Ordered: The K-Town
The Taste: The K-Town is a quarter-pounder topped with galbi beef, kimchi, pickled daikon, American cheese, and spicy black bean mayo. That sounds like a lot, right? Well it all works. I was actually kind of shocked at how palatable and simple the combination of flavors came out on this burger. Kimchi can be intense, but it was perfectly subtle here, and gave the burger an essential crunch. The beef patty and Martin's potato roll were the ultimate partners, as they always are. Because of the burger's size, I recommend being mindful of your meal, as it could be gone before you even know it.
Also delicious on the Uncle Sam's menu: loaded tater tots, Chicken "Sam"wiches, and house-made Sriracha potato chips.
The Verdict: This is the best introduction a New Yorker can have to an Asian-influenced burger. Eastern flavors are present but not alarming, and everything tastes great.
Uncle Sam's Burgers is located at 307 5th Avenue in Manhattan, New York.
Sign up for Burger Weekly email updates!