When Umami Burger challenges you to a 9-course tasting menu featuring every single one of their burgers, you say yes. Okay, maybe you don't say yes because you're concerned with your health and are happy to eat just one delicious burger in a given meal, but I'm a burger blogger so I said yes. But I'm no fool, so I invited three of my friends to tackle this ridiculous meal with me.
There are three Umami Burger locations in New York, and luckily I was able to experience the tasting menu in Williamsburg, just a short walk to my apartment for what would assuredly be a post-meal collapse. I was excited to be able to eat all of Umami's offerings, as before this I'd only ever tried their Truffle Burger.
The first course consisted of standard thin-cut fries, brown sugar-dusted sweet potato fries, and tempura onion rings. Each course was paired with a beverage, the first being a real-sugar Sierra Mist. I'm not big on pop (soda, if you like), but I was hugely into the potatoes and onions. The group scarfed them down, which turned out to be a mistake as later on in the meal we found ourselves wishing we'd been able to parse out these sides among the other courses.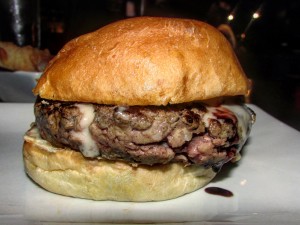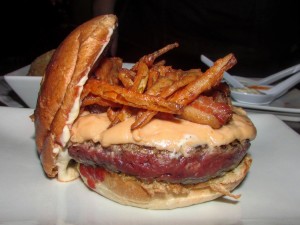 The first burger up was the Truffle Burger (pictured above, left). This burger had a lot more truffle flavor than I remembered from my previous experience with it. It is topped with house made truffle fondue, truffle glaze, truffle salt, and truffle aioli, which I'm certain is more truffle than anyone necessarily needs. Pair this with the truffle ketchup and you're cruising for a truffle bruising. After typing this paragraph, the word truffle has lost all meaning. This burger was paired with a Great Divide Yeti Imperial Stout, which was heavy enough to catch my taste buds' attention after the truffle deluge, and different enough to be a palate pleaser.
The flavor bombs continued as the Manly Burger (pictured above, right) arrived next. It is topped with bacon lardons, beer-cheddar fondue, smoked salt onion strings, umami ketchup and mustard. The toppings on this burger were so powerfully savory that it was actually a blessing that the patty (on this burger and the Truffle Burger) wasn't heavily seasoned. This was my favorite burger of the evening, and the one I'd go back to if I ever feel like I deserve a gnarly decadent meal. It was paired with the Maple Bacon Old Fashioned (pictured below, left). I'm a bit of an Old Fashioned nut, and this one was on the sweeter side. It was very tasty and easy to put down, and the candied bacon inside was a treat.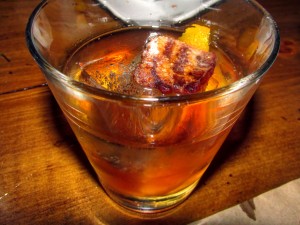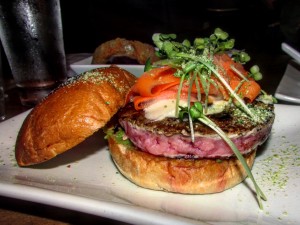 Next up we got a break from the beef with the Ahi Tuna Burger (pictured above, right). This seared tuna patty was topped with daikon sprouts, crushed avocado, gingered carrots, wasabi flakes, and wasabi tartar. The sear on the patty was perfect, and the wasabi toppings were delightful. This arrived at the perfect point in the meal, as no beef burger was going to be able to compete with the power of the Manly Burger. It was paired with a Victory Golden Monkey Belgian Trippel, which was fruity and smooth and got us feeling buzzed for the first time.
After our tuna detour, we were served the Hatch Burger (pictured below, left). It came topped with roasted hatch chiles, house Cali cheese, and roasted garlic aioli. The chilis and aioli and our now-inebriated state (especially considering the blackberry swizzle cocktail that came with this burger) made this burger messy as all get out.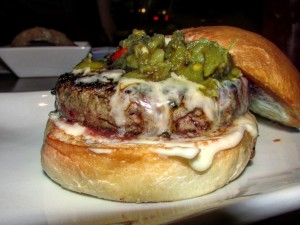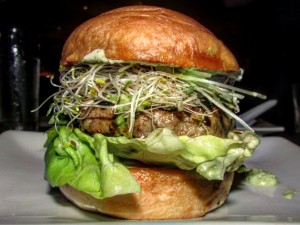 The Greenbird (pictured above, right) came out next, and was one of the better turkey burgers I have ever had. It was topped with crushed avocado, green cheese, butter lettuce, sprouts, and green goddess dressing, and was paired with a nice, crisp Gruner Veltliner wine.
Next up came the Cali Burger (pictured at the top of this post). It was topped with buttered lettuce, roasted tomato, caramelized onions, house spread and house Cali cheese. A lot of these toppings had already made appearances during the meal, so this one wasn't as memorable. It did however come with a spicy mezcalrita. This drink was so sweet that we all put them back far too quickly, taking us from tipsy to full-out drunk.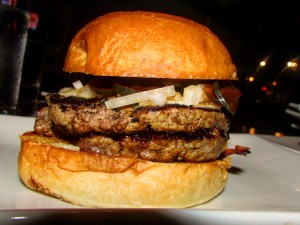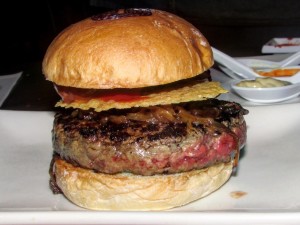 The Throwback Burger (pictured above, left) came out next. I was very excited for this one, as Umami Burger made a lot of noise when it first appeared on their menu. The small double patties and chopped pickle and onion gave this a gourmet Bic Mac taste, which was incredibly welcome this late in the meal. When running through a burger marathon, a little bit of diversity helps a lot. It was also paired with a Caleb's Kola, which made me even more nostalgic for my discount burger childhood. At this point I was wishing I had a few french fries left over from the first course to make the experience complete.
The last burger to come out was the Umami Burger (pictured above, right). It is topped with a parmesan frico, shiitake mushroom, roasted tomato, caramelized onion, and Umami house ketchup. I'd love to tell you that I loved this burger even though it was the sixth piece of beef served to me, but in all honesty I probably would have been better off tapping out two courses back. I was ready to burst by the time this was put in front of me. It came paired with a zinfandel, which was a great drink to end the meal.
Because there was a birthday girl in the group, we were also treated to a salted caramel ice cream sandwich. It was scrumptious and the last thing I had on my mind before I blacked out. Thankfully, my farewell to consciousness happened in my bed at home and not at the table.
Umami Burger is located at 58 North 4th Street in Brooklyn, New York.
Sign up for Burger Weekly email updates!