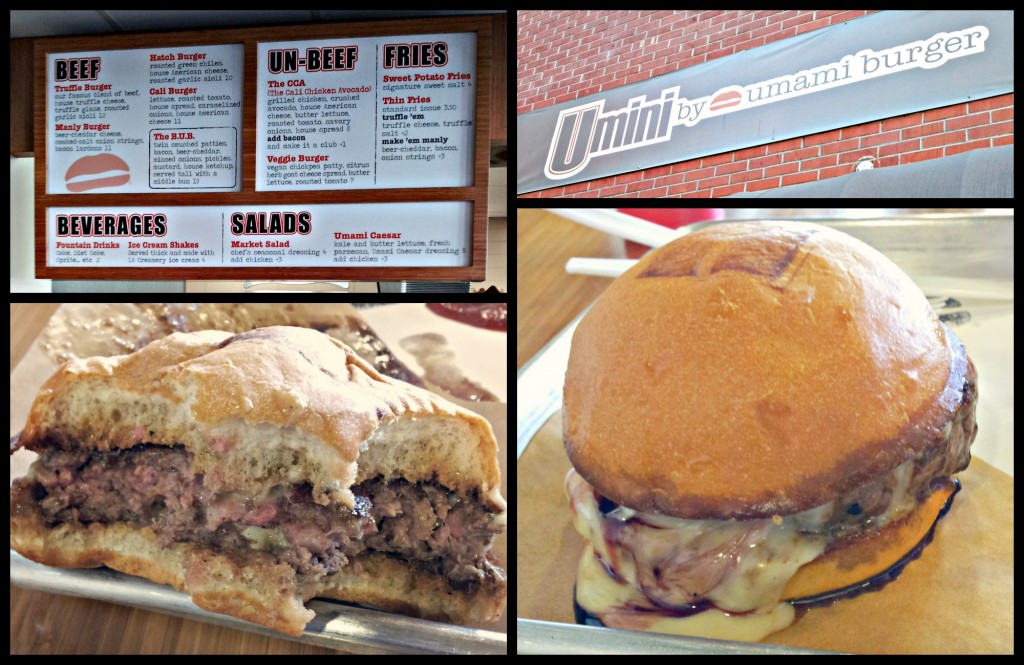 The Experience: Although I have yet to do a formal review (shame on me), Umami Burger is one of, if not my favorite burger spots in all of L.A. Naturally, I was thrilled to learn they had opened a "U-Mini" spinoff in Westwood. U-Mini is basically a streamlined version of the original. The menu is much smaller (only 4 or 5 burger variations), and there is no waiter service. Fortunately, they've selected some of their most popular burgers for the U-mini concept. Since I'd never tried the truffle burger, this seemed like as good a time as any.
Burger Ordered: Truffle Burger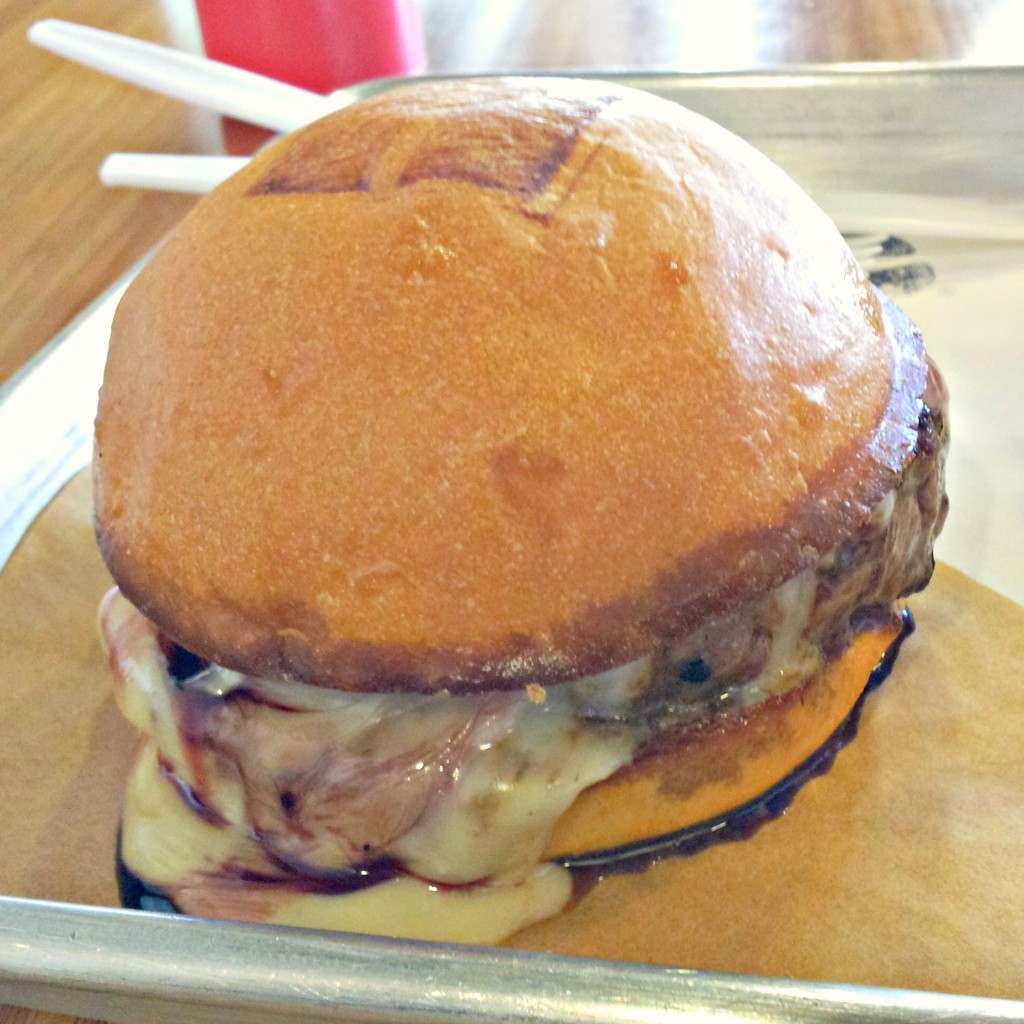 The Taste: The truffle burger only comes with a couple toppings – truffle cheese and a truffle glaze. This is probably a good thing, because the truffle flavor is quite pungent and would likely overpower any other ingredients. As you can see in the photo, the generous serving of truffle cheese cannot be contained and is seeping out the sides. The dark red truffle glaze soaked into the bun as well, and when you combine the cheese, truffle glaze, and natural juice of the meat, this becomes a very messy endeavor. Their beef, which they claim to grind fresh several times a day, is almost a work of art and I have no idea how they make it so flavorful. The truffle burger is decadent even by Umami standards, as I found truffle flavor to be a little intense. All in all though, this was a delicious burger.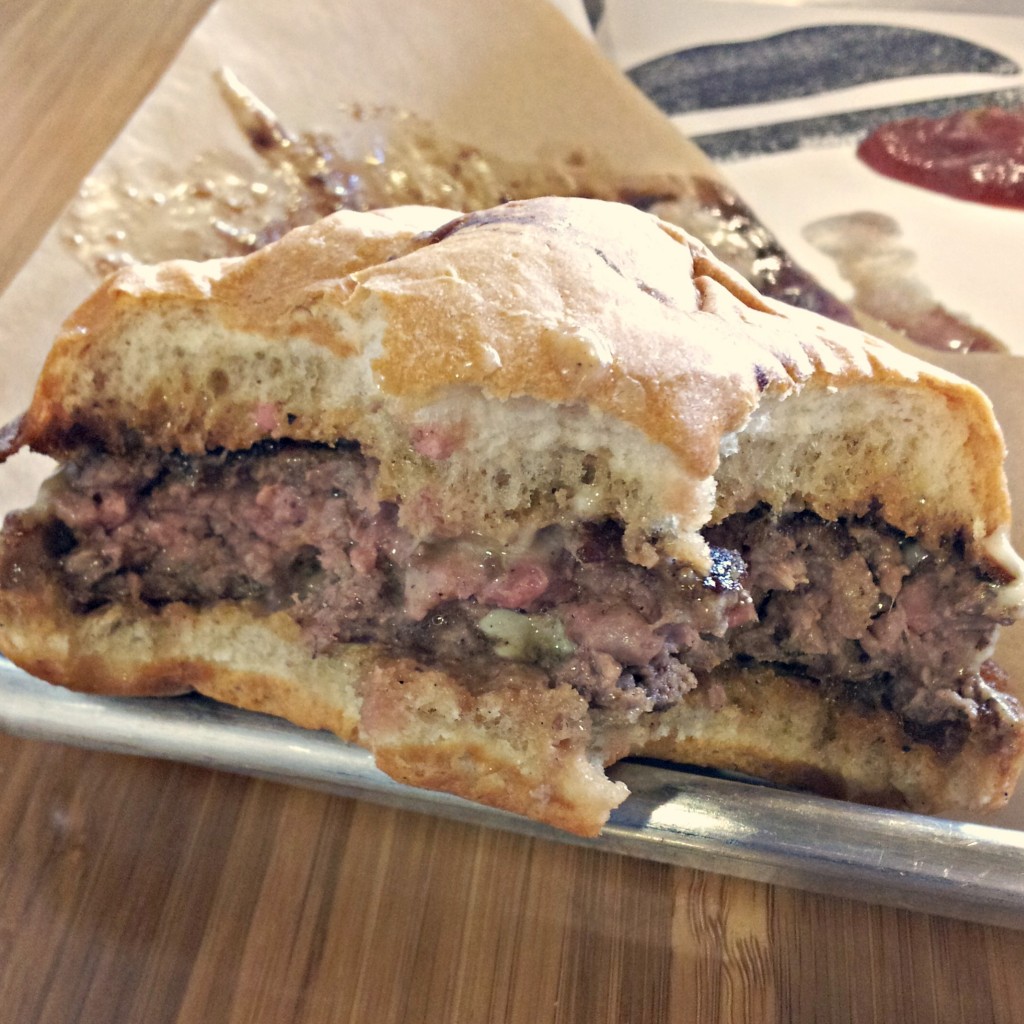 The Verdict: I am happy to report that the U-Mini burger is just as good as the full-service Umami, meaning it is amazing. The menu is more limited, but the quality is the same and the buns even come with the signature letter U branded on top. If you haven't had the pleasure of trying an Umami burger yet, I highly recommend you treat yourself.
U-Mini is located at 1131 Westwood Blvd., in Los Angeles, California.