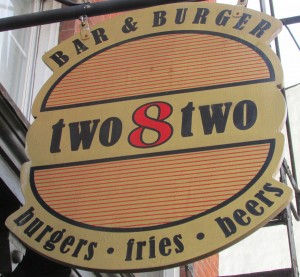 Burgers Ordered: The Billy Burger, the Pub Burger, the Breakfast Burger.
The Experience: After a disappointing outing at Burger on Smith, the Burgermeisters were inundated with Little Meister feedback telling them that all was not rotten in Cobble Hill's burger world.  Apparently, just a few blocks down Smith Street, two8two Burger was serving up delicious beef treats.
two8two Burger keeps it simple and standard in their setup.  The bar is in the front, the dining area is in the back, the kitchen is closed with a small window that allows a curious Burgermeister to see how the burgers are grilled. The wait staff is very friendly and the burgers are served medium rare, as ordered.  But how do they taste?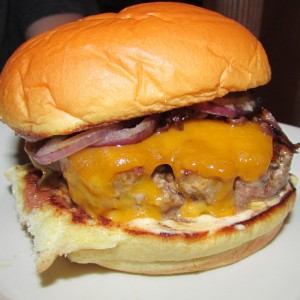 The Billy Burger is a cheeseburger with grilled onions and two8two sauce. The sauce was a little spicy and smokey. The onions were greasy & delicious. The burger was on the small side at around 5-6 ounces, and was devoured in about six bites. The bun held up well, despite being a Pepperidge Farm-esque roll.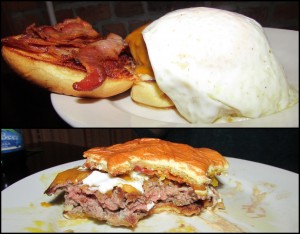 The Breakfast Burger was a cataclysm of gooey cheddar, runny delicious fried egg, tender medium rare meat falling apart, and a bun that didn't get in the way of any of the awesome. This burger makes a serious mess, but is a worthy way to fulfill its namesake.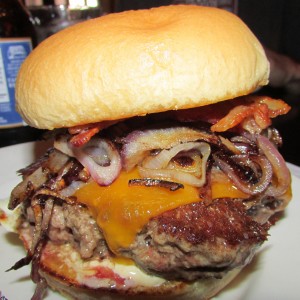 The Pub Burger is an eight ounce version of the Billy Burger, with bacon. The patty had a wonderful char grill taste, but wasn't seasoned much. The onions were tasty and the crunch of the bacon was nice, but it wasn't until the two8two sauce entered the equation that the burger reached its potential.  Not every bite was amazing, as sauceless bites were far less fun. Like the other burgers, they did the best they could with the bun, toasting it so that it held up to the patty's juices.
The Burgermeisters shared a plate of mediocre sweet potato fries and delicious Abita root beer.  Sometimes it's hard to go with a soft drink at lunch, but all three Burgermeisters in attendance were glad that they did.
The Verdict: A definite improvement over Burger on Smith, and probably the best burger in the neighborhood.  The only real drawback is the unmemorable bun, but even that was serviceable and probably helps to make the burger as inexpensive as it is ($15 per person for the burgers, a shared plate of sweet potato fries, and an Abita root beer each). This joint is definitely worthy of a visit.
two8two Burger is located at 282 Atlantic Avenue at Smith Street in Brooklyn, New York.