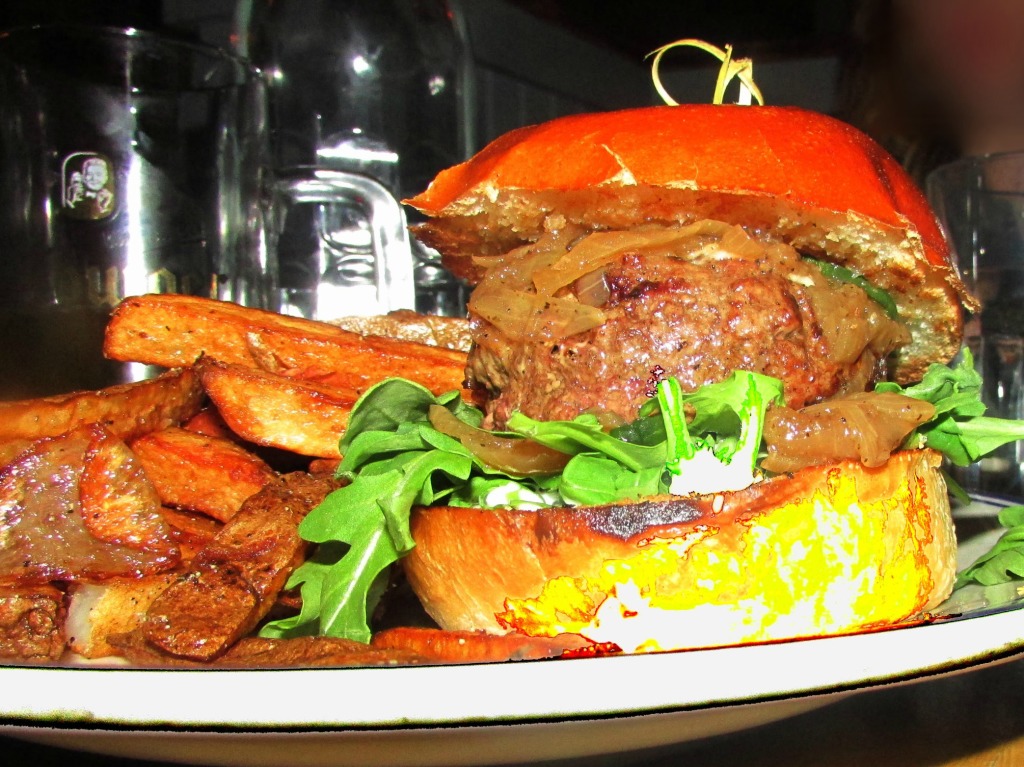 The Experience: I take some hamburger recommendations more seriously than others. You can offer me up your favorite burger joint, but on its own that recommendation probably won't get my attention. What did get my attention, however, was when two of the security guards from work told me that they had recently tried each other's favorite burgers in New York City and decided that Tutu's was the best of them (the other being Ruby's Cafe), my attention was officially grabbed.
I'd been to Tutu's before, but only for drinks. That was a pleasant enough experience, and while there a waitress had also told me that their burger was excellent. That same waitress served me the night of this Burger Adventure. I ordered a hamburger with cheese, which was extra. When the burger arrived there was no cheese. I'm pretty easy going, so I told the waitress only because I didn't want to be charged the extra for cheese. To her credit, she took the mistake very seriously and told the kitchen. The kitchen wanted the burger back, as they didn't believe that they forgot the cheese. This whole ordeal was kind of annoying, as I just wanted to eat my food. Still, I tried to shake it off and enjoy. I went on Golden Globe Sunday, and the awards show was playing on a big screen as I ate. I'm guessing Tutu's did this because most people in Williamsburg don't have TVs in their apartment, a point of pride for the neighborhood.
Burgers Ordered: The House Burger
The Taste: The burger was entirely serviceable, event without the cheese. The patty had a nice flavor and was cooked as ordered. All it was missing was a bit of nice char. The bun was actually excellent, and the grilled onions were a nice touch. I could have done without the arugula, and continue to question why some restaurants use it as Rabbit Food on their burgers. It masked the herb aioli, which was what I was most looking forward to on the burger.
The Verdict: Annoying kitchen issues aside, the burger was pretty decent, and Tutu's is a fun place to grab drinks and a meal.
Tutu's is located at 25 Bogart Street in Brooklyn, New York