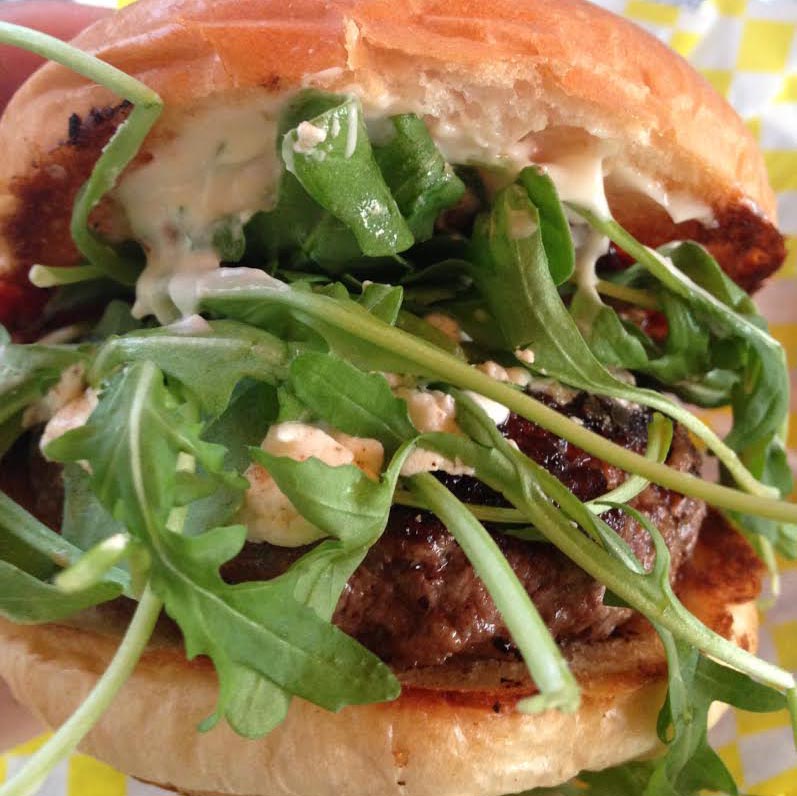 The Experience: The neighborhood of Uptown New Orleans, particularly in the areas close to Tulane University, has many small streets that have very distinct charms. Oak Street invokes that old time Main Street USA-type feel, but also has some newer establishments that offer a really welcoming blend of modern and classic. Think Park Slope, but smaller and cheaper.
One such establishment is trūburger, a fast casual burger joint that offers a mix of build-your-own burgers as well as specialty burgers. I lived uptown in New York, I live uptown in New Orleans, and I have been known to rock Uptown Funk at karaoke. And so, while all options looked enticing, I was drawn toward the Uptown: arugula, garlic aioli, roasted tomatoes, and goat cheese. All burgers are cooked medium unless otherwise specified, and I of course specified medium rare. I added an order of cheese fries, and then the waiting began.
Burger Ordered: The Uptown Burger
The Taste: The wait was about 20 minutes, which felt like an eternity, but the end product was well worth it. I appreciated the size of the burger, as well as the neat layering of the toppings. This was one of my less messy burger devouring experiences. Upon first bite, I was concerned that perhaps my burger was overcooked, but two more bites in and I saw that perfect pink tender angus beef, all ground in-house. The goat cheese blended with the garlic aioli made for an extremely salty experience, which I loved, but might not be for everyone.
The french fries are thin cut and salted perfectly, though I would have ideally wanted the cheese to be a bit runnier. It was more baked on, which tasted good but was not the melty experience I typically expect from cheese fries. Let me reiterate, however, that they were still delicious, and came in a very generous portion.
The Verdict: trūburger is an extremely popular burger destination, as evidenced by the line I encountered. The product justified that queue, as trūburger provides an extremely satisfying burger at a very fair price, along with an ambiance that enhances the more modern charms of Oak Street.
trūburger is located at 8115 Oak Street in New Orleans, Louisiana.