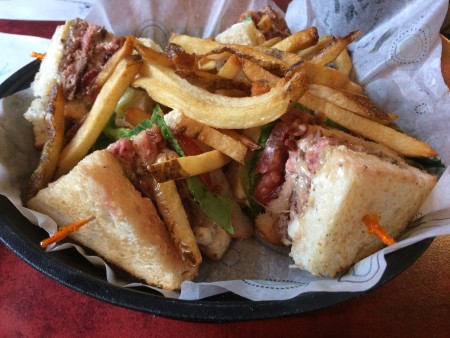 The Experience: Trout Town Country Café is owned and operated by Kalkaska chef Dan Bloomquist, and they have been a local favorite for years. Located just off the downtown strip, Trout Town Country Café website heavily promotes their briskets, specialty French toast, country style breakfasts, and homemade pies. But come on, I'm a burger man. That led me in the direction I so often find myself when I'm out to eat.
Burger Ordered: Cheeseburger Club
The Taste: Trout Town burgers are hand packed six ounce certified angus, and the Cheeseburger Club is topped with bacon, white cheddar, lettuce, tomato, and mayo, and is served on rustic sourdough. One thing the menu does not make clear is that the burger would be served in quarters, rather than as a traditional burger. This is definitely something that should be notated on the menu. That being said, this was still a very tasty burger, and at the end of the day I ended up appreciating the unique presentation. The burger was obviously fresh and made with care, and the bacon and white cheddar added just the right amount of flavor. The Michigan cut fries that came along for the ride were excellent as well.
The Verdict: While I think the menu should have been a little more forthcoming, I still greatly enjoyed this burger and would happily eat it again.
Trout Town Country Café is located at 306 Elm Street in Kalkaska, Michigan.
Sign up for Burger Weekly email updates!