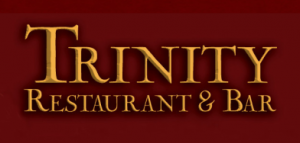 Great for Family Dining or Late Night Grubbing 
Burgers Ordered: Christopher – 10 oz. Angus Burger
The Experience: Trinity is a fantastic Irish Pub located in the Floral Park section ofNassauCounty. The wait staff is extremely friendly, helpful, and courteous.  The décor is classic pub and the menu features traditional pub faire as well as fantastic sandwiches (including an amazing pot roast sandwich), appetizers, and entrees of the non-traditional variety. Christopher and his wife Erin first went to Trinity at the suggestion ofErin's cousin Jenny and her wife Becca. They have returned many times since and for good reason!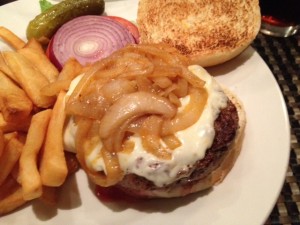 The Taste: Christopher ordered the 10 oz. Angus Burger medium rare and topped it with mozzarella and sautéed onions. The burger came on a toasted sesame seed bun and was cooked to perfection. The cheese was nicely melted and the onions were heaped on with abandon. The meat was flavorful, juicy, and delicious. The steak fries that accompanied the burger just might be some of the best onLong Island.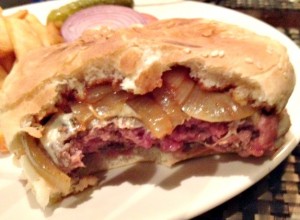 The Verdict: If you like Pubs and you like burgers, you cannot do much better than Trinity. This place has become a family favorite at dinner time and a late-night meal destination. Even if you don't like burgers (Editor's note: Why are you reading this blog if you don't like burgers?), have Christopher's other favorite, the Pot Roast sandwich!
Trinity Restaurant is located at 190 Jericho Turnpike in Floral Park, New York