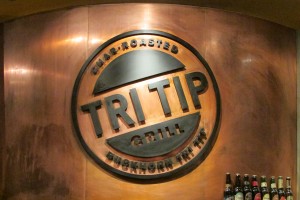 Burgers Ordered: The Bacon Cheddar Burger, the Buckhorn, the Rock and the Roadhouse.
The Experience: The Tri Tip Grill was recommended to the Burgermeisters during their Burger Adventure at Burger on Smith. It's a fast casual steakhouse-style stand in the bowels of 30 Rockefeller Plaza. The Burgermeister crew for this adventure was made up of equal parts natives and transplants, the transplants never having paid 30 Rock a previous visit. They were surprised by the mall-like atmosphere of the place, but drawn to the Tri Tip Grill because of the intoxicating aroma coming from the small space. They divvied up the four burger offerings available and didn't have to wait long to dine on their economically priced burgers.
Yes the fire alarm went off, but thankfully the hungry Burgermeisters did not have to evacuate the building.
The Taste: The Bacon Cheddar Burger came very close to being everything one could want in a meal under $10. The patty was distinctly seasoned despite being cooked medium well, the toasted bun added a nice crunch. The cheddar cheese was melty and tasty and the red ranch sauce gave the burger a memorable taste. The only drawbacks included the overwhelming lettuce (note the discarded leaf in the photo) and the tasteless bacon. The Burgermeisters appreciate a cheap burger, but if good bacon makes the Tri Tip Grill go over their budget, they should dump it entirely.
The Rock suffered from the same Rabbit Food-overload and bland-bacon-bummer, but its Swiss cheese and avocado redeemed its faults. The thin patty was complimented well by the crunchy, toasted bun, making this more than your average fast casual burger.
Because of a happy accident, the Buckhorn (Tri Tip Grill's standard hamburger) was served with bacon and cheese, making it a Bacon Cheddar Burger in all but the red ranch sauce. The sweet burger sauce wasn't particularly noticeable, but there were no complaints given that it was a tasty and inexpensive burger.
The crumbly bleu cheese on the Roadhouse was the only drawback to an otherwise good burger. The fried roadhouse onions and red ranch sauce gave this burger the kick it needed to get overall Burgermeister approval.
The Verdict: Tri Tip Grill is obviously marketed to the midtown lunch and daytime tourist crowds, but it left the Burgermeisters full and satisfied at dinner time. If you don't live near 30 Rock (or the second location in Grand Central Station) and want to grab a cheap burger after work, make sure you zip over before too late; the joint closes at 9pm.
Tri Tip Grill is located at 30 Rockefeller Plaza and in the Grand Central Terminal.