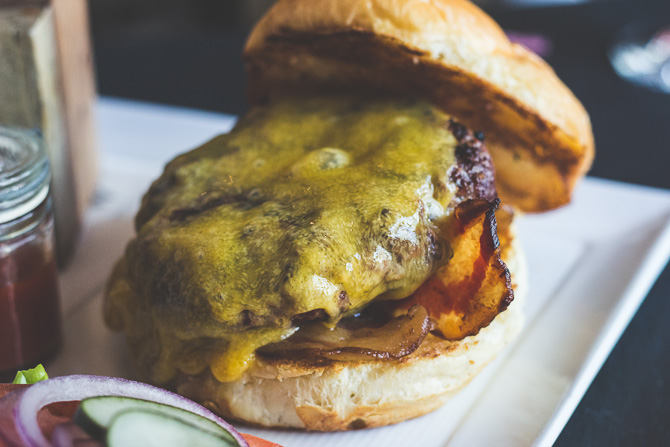 The Experience: A little while back, my wife, recognizing that it was time to feed my burger craving, accompanied me to TRACE Restaurant located inside the W Austin Hotel. Honestly, when we first walked in, we felt incredibly out of place. We even had on our "nice" jeans, and we still felt like our presence somehow lowered the sophistication of the establishment. Our hunger (and ticking parking meter) quickly got us past this awkwardness, and we set up camp near the huge wall of windows overlooking the outdoor dining area. We came to learn that TRACE is committed to showcasing locally sourced foods and creating a culinary experience not to be forgotten.
We feared that going towards the end of lunch service might result in a subpar experience, but this was entirely not the case. My Trace Burger Burger came out nothing short of immaculate. Escorted by a trio of house condiments and a towering cone of fries, my burger was perfectly cooked and dressed to the nines with a blanket of cheddar, strips of crispy bacon, lettuce, tomato, onions, and pickles.
Burger Ordered: The Trace Butcher Burger
The Taste: The patty possessed a flavor-filled crust and a succulent interior. Meat juices spilled out with each bite (just the way I like it) and soaked the soft, lightly toasted bun. The cheddar was mild, not overbearing, and the veggies were picture-perfect fresh. I don't think I detected a single sign of wilt or bruising on any of the toppings. The crisp bacon strips did not disappoint (they rarely ever do). And with the addition of a couple of dabs of house-made ketchup and mayo, the Trace Butcher Burger oozed sophistication. It was exactly what you would expect from the restaurant inside the W Hotel. But at the same time, lingering in the background somewhere, you could sense the backyard goodness, that familiar essence, that makes the burger so beloved.
Oftentimes, this is where I'll contrast my wife's dining experience (or mine depending on who was more successful with the menu), but her Salmon Burger was no slouch, either. Topped with Bibb lettuce, pickles and herb aioli, the alternative burger had a pleasing Asian flavor profile. The salmon patty was thick and densely packed. In fact, it was so moist and flavorful that it was almost like biting into a quality salmon steak. She had planned on only eating half of the burger and packing the rest to-go, but before I knew it, she sat before me with an empty plate. I guess it's safe to say that she liked it.
The Verdict: Not only was the food good, but TRACE had the service to match. Not for a moment did our waiter show signs of irritation (again, it was close to the end of lunch), nor did he make us feel rushed. It's easy to see that the skilled craftsmen at TRACE care about their food (from source to table) and enjoy entertaining the senses of their guests.
TRACE is located on 200 Lavaca St., Austin TX 78701 inside the W Austin Hotel
You can read more of Tim's burger adventures at MJ and Hungryman.