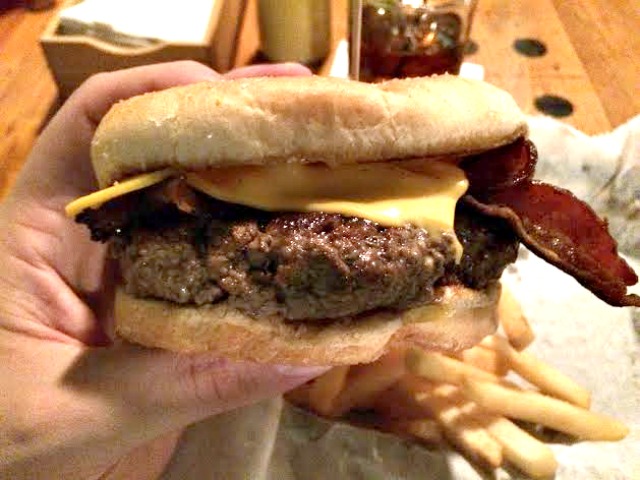 The Experience: Every hometown has that bar that everyone goes to when they visit for the holidays. For graduates of Elk Rapids High School, the Town Club is that bar. It's hardly the nicest bar in the world, but there's something oddly charming about it, and you're pretty much guaranteed to run into someone you know. That person may even be your waiter, which was true of both lovely ladies on staff that night, which resulted in a waiter culture that is second to none.
Burger Ordered: Home Run
The Taste: Town Club offers four different burger options, so I went for the dinger – the Home Run. It's a nine ounce burger topped with bacon and American cheese. That's a routinely good burger at most places, and Town Club is no different. It was cooked a little more done than I would normally order, but it still had very good flavor. The bacon added a nice salty crunch, and American cheese continues to prove its superiority as my cheese of choice. The French fries that came with were also quite good, and the affable atmosphere of being with old friends adds an intangible quality that makes this a burger worth ordering again.
The Verdict: I don't often make it to Town Club these days, but every time I do it's comforting to note that really nothing ever changes. Sometimes you wanna go where everybody knows your name. And if that place is Town Club in Elk Rapids, you should try the burger while you're there.
Town Club is located at 133 River Street in Elk Rapids, Michigan.
Sign up for Burger Weekly email updates!