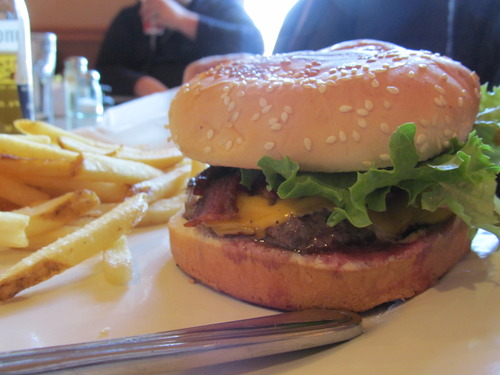 The Experience: Tower Burger is a small-ish, nondescript little joint located on Portola Drive in a neighborhood called Miraloma Park, as in, "no, I've lived in San Francisco for six years and never heard of Miraloma Park." It's among the few areas in San Francisco where (a) you almost HAVE to drive there and (b) there is plentiful parking. But it's also still San Francisco, so even with a big parking lot outside there were still hungry parking meters that required the low, low rate of about a dollar for every fifteen minutes. But still – parking!
Tower Burger sells fresh Niman Ranch beef, which intrigued my group. They also employ our favorite lunch-style ordering system where you put in your request at the counter and pay, they give you a number and start hauling out the food. Tower has a selection of about a dozen of their own burger recipes, and they also offer a Garden Burger (blech) as well as salads and their own fish & chips recipe. We'll have more on that one later. In the meantime, we all started putting in our orders and gave the kitchen quite a workload to start with as we got our drinks and settled in.
It should also be noted that while Tower Burger is a classy joint, they only offer beer and wine for booze options, so if you need whiskey or tequila you're out of luck.
Burgers Ordered: The California Burger, the Cheddar Cheeseburger, the Tower Burger, the Bacon Cheeseburger, and the Chili Cheeseburger
The Taste: Tower's California Burger features Jack Cheese, sprouts, the perennial Cali topping Avocado and also a hands-free cellphone law that nobody obeys. The burger ran two red lights while talking to its life partner about doing hot yoga later while on its way down to be digested. It should be noted for longtime residents of California that most other states do not come up with specialty burgers or sandwiches to name after their state; in most of the Midwest if you ask for the regional specialty at a burger restaurant they just point you in the direction of the nearest corn field with a large coffee can filled with ranch dressing.
The regular cheeseburger comes with Tower's aged cheddar. It was so aged it looked at George's burger order and said, "groovy order, brother."  The specialty Tower Burger is topped with grilled onions, mushrooms, your choice of cheese, and everybody's favorite party guest, bacon! The Bacon Cheeseburger comes with bacon and cheddar. Even as a young lad I remember my father telling me, "a burger is always better when two animals had to die to make it happen, son." A proud family tradition we carry on to this day.
Tower's Chili Burger comes with a bowl of their house-made chili for you to distribute as you see fit on your burger, like the King of Calories you are. We discovered is that while not terrible buns, Tower's bread had a hard time holding up in the wake of the messier burgers. A chili burger is hard to keep together regardless, and finally our Chili Burger eater opted to go to the knife-and-fork routine. And while he was at it, he topped it off with some fries. Because it was that kind of day.
Tower is serving up a solid burger with Niman Ranch beef, which they get delivered fresh, as they also do with the veggies they top the burger with. They also did a good job of cooking them exactly to order, with those of us who prefer things medium-rare getting a little extra juice and goo in the buns, just like we wanted, whereas those who went for their burger slightly more done were also cooked to perfection; not as much juice but also not turned into shoe leather that is only edible if you're drenching it in ranch dressing or are 90-years-old.
Tower Burger may misspell Chili on their menu (they call it "chilli") but they don't mess around with their Chili fries, going for a simple process of taking a large pile of fries, coating them in as much chili as they can carry and then dousing it with the meltiest, neon-iest cheese in the land. When you're going for a heavy influx of fat, grease and carbs, it's good to keep it topped with a color that does not occur in nature.
They also make a good old-fashioned chocolate milkshake using Mitchell's Ice Cream, as well as the secret ingredients of love and milk. The sweet beverage received high marks. The fries and onion rings were good but not great, and one glimpse at the fish led me to believe it wasn't the freshest catch of the day. Not a bad showing but not the best I've ever seen.
Most of the group was in tip-top shape after our feast, with Tower's charbroiled preparation keeping the burgers from getting overly greasy, and the fresh ingredients paid off as well. In fact, yours truly took the parents to a favorite bar afterwards to wash it down with some whiskey and Irish coffees and still felt great.
There was a little grumbling from the a few in the group who had racked up multiple orders that they were a bit uncomfortable, but those get chocked entirely up to their own greed. Just like in Aesop's Fables, when you review burgers and go too far, your fate is sealed. Chubby Icarus shouldn't fly too close to the burger sun, because he's already kind of sweaty.
The Verdict: So, should you saddle up and make the trek to Tower Burger? It's a nice joint and the service was pleasant but not overbearing, with fresh Niman Ranch and veggies with a few specialty items that we all enjoyed, if not loved outright. It's certainly a trek to get there and I wouldn't call it a Destination Burger, but if you're visiting nearby Twin Peaks and need some beef to fuel your hiking or reward yourself afterwards, Tower is a great option.
Tower Burger is located at 729 Portola Drive in San Francisco, California.
Find Drew and his comedy schedule here. 
Sign up for Burger Weekly email updates!