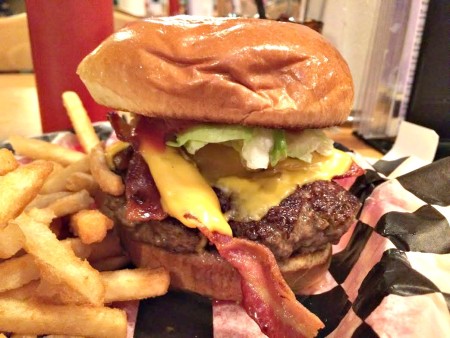 Toonies has been owned and operated in downtown Bellaire by the same local family for the past 21 years, and it's location adjacent to the local cinema makes it a convenient partner in the time-tested "dinner and a movie" excursion. It's a casual family restaurant known primarily for fish and steak, as its name would indicate, but any good Burgermeister would take that as merely a suggestion, and mine the menu for its burger offerings.
Burger Ordered: Toonies Burger
The Taste: When trying out a new place, I generally opt for the burger named after the establishment, which led me in the direction of the Toonies Burger. This is a ½ pound certified Black Angus burger, with option LTO+P, and you can "kick it up Toonies style" by adding a variety of standard burger offerings. I topped mine with lettuce, bacon, and American cheese. I like to keep my toppings simple and let the burger speak for itself, because the meat is the star. And in this case, the Black Angus patty was cooked a perfect medium rare, and it set the tone for the rest of the items. The bun was nicely toasted, and it did a great job holding everything together until the end.
The Verdict: Toonies is a friendly place in a good location, and they make a very good burger. Their menu also features a monstrosity known as "The Angry Mountain," which is a ½ pound burger in between two grilled cheese sandwiches, as well as the "Smothered Bull," an open faced burger with garlic mashed redskin potatoes smothered in gravy. So that makes it a destination worth going back to for the more adventurous Burgermeisters (like myself).
Toonies Fish and Steakhouse is located at 216 N. Bridge St. in Bellaire, Michigan.
Sign up for Burger Weekly email updates!