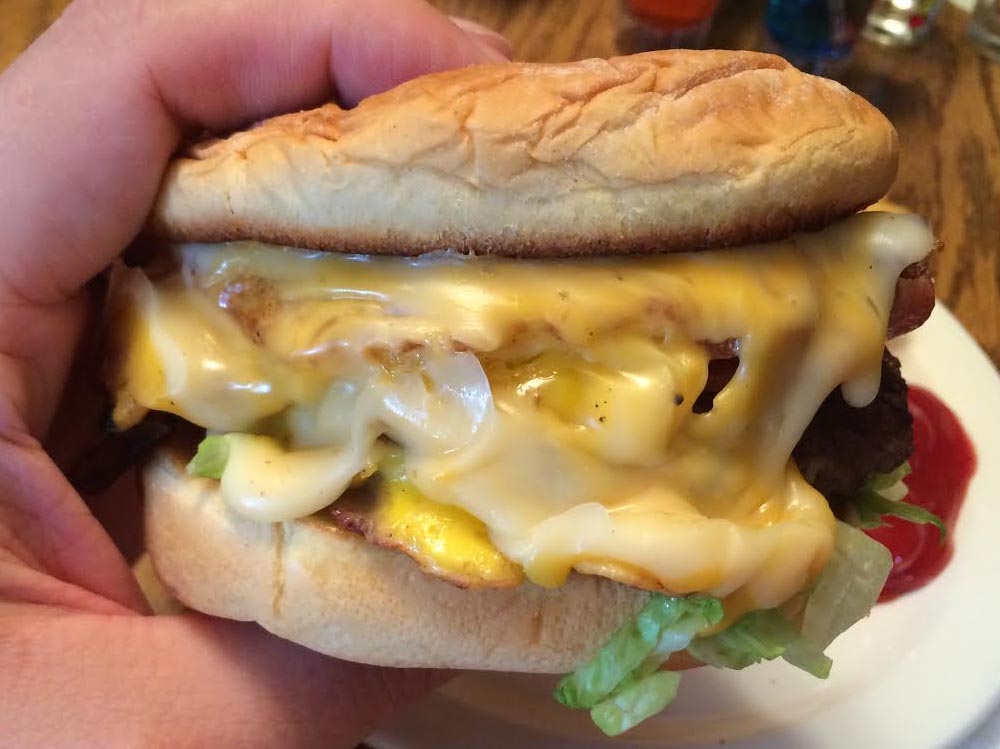 The Experience: Tommy's Burger Stop is a burger-loving hipster's wildest dreams come to life. The small, unassuming building is decorated with random pop culture memorabilia, such as a mirror adorned with assorted Pez dispensers, and one wall with Star Wars: Episode III – Revenge of the Sith artwork. It is a very small place, but the menu is surprisingly crowded given how much space they have to prepare and store that much stuff. The burger team and I went on a Saturday night, and it was so busy that it took almost 45 minutes to get our food, and Tommy's had to stop taking orders over the phone because they were so backed up. I took that as a good sign.
Burger Ordered: Spenard Bacon Cheeseburger
The Taste: Tommy's uses 100% USDA grade beef from Australia, and each patty is 5.5 ounces of delicious cow meat. They flavor each patty with a Cajun seasoning, and then sear them "to perfection," it says on their website. Excuse me, I'll be the judge of that. The Bacon Cheeseburger comes on a toasted bun with American cheese and Hormel bacon, along with the usual LTO, mayo, and pickles. The coup de grace for this burger is making it a "Spenard" (adding a fried egg), which is named after a neighborhood in Anchorage that was historically an entirely separate community and today maintains a strong sense of individuality. This is the perfect name for this nearly perfect burger. Since this is a quick-serve establishment they don't ask how you want the burger cooked, so while I may have liked mine a little juicier, this is still an amazingly flavorful patty, surely helped by the unique Cajun seasoning. The fried egg was not runny, and the cheese held everything together and made it possible for me to continuously hold the burger as I inhaled every delicious bite. It's a good thing I love 3,622 miles from Anchorage or else I would be putting my health in jeopardy by visiting Tommy's on the regular. Also, the Cajun seasoned French fries and beer battered onion rings were quite delectable and an ideal side to go with this terrific experience. I was also able to down two Mexican Coca-Colas, which is just glass bottle Coke, but it was the right beverage to go with this meal.
The Verdict: I would go here again in a heartbeat. My sister-in-law and her husband live up there so I'm sure my wife and I will get a chance to go back, and since my wife did not get to come with me on this Burger Adventure I have plenty of reason to go back for more – which I will do with glee.
Tommy's Burger Stop is located at 1106 W 29th Place in Anchorage, Alaska
Sign up for Burger Weekly email updates!