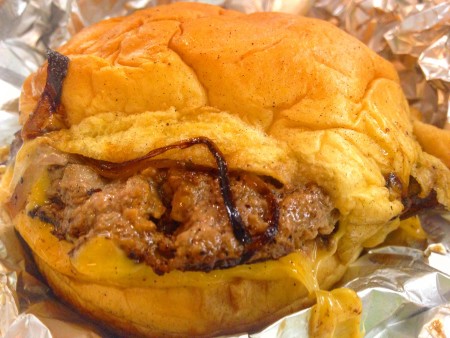 Schnippers is low key one of the best burger joints in New York City, and is especially delicious given how inexpensive it is. They've just taken things up a notch at their location in the Financial District, transforming the space into Thunder Bun. This new concept is centered around its eponymous burger, which is really a large slider. A large, authentic slider. I can't tell you how happy it makes me to see slider-style burgers (not mini burgers!) proliferate the city. The idea behind this shift was to offer diners a quicker fix at lunch, as sliders take about half the time to prepare. They also serve a whole host of other funky burgers, chicken sandwiches, vegetarian options, and market sides. But let's talk about this burger.
Burgers Ordered: The Thunder Bun and the Waffle Fry Parm
The Taste: Let's start with the Waffle Fry Parm. This is one of Thunder Bun's veggie options. There are very few veggies in it (some roasted tomatoes), but it's really just cheese waffle fries on a bun. And it's incredible. They have more traditionally vegetable-focused sandwiches as well (charred broccoli, buffalo tofu, and one with kale and avocado), but those just aren't as fun.
The Thunder Bun, a traditionally prepared slider with onions and American cheese, is stellar. It brought me back to my childhood in Michigan (where people enjoy real sliders), when I would eat 2 full-sized sliders and be full as hell. Do I wish this had pickles on it? Of course I do, but it was as good as a non-pickle slider can get.
The Verdict: This subteranean burger joint is killer. Get down to the Financial District and eat there.
Thunder Bun is located down the escalator at 1 New York Plaza in Manhattan, New York.
 Sign up for Burger Weekly email updates!