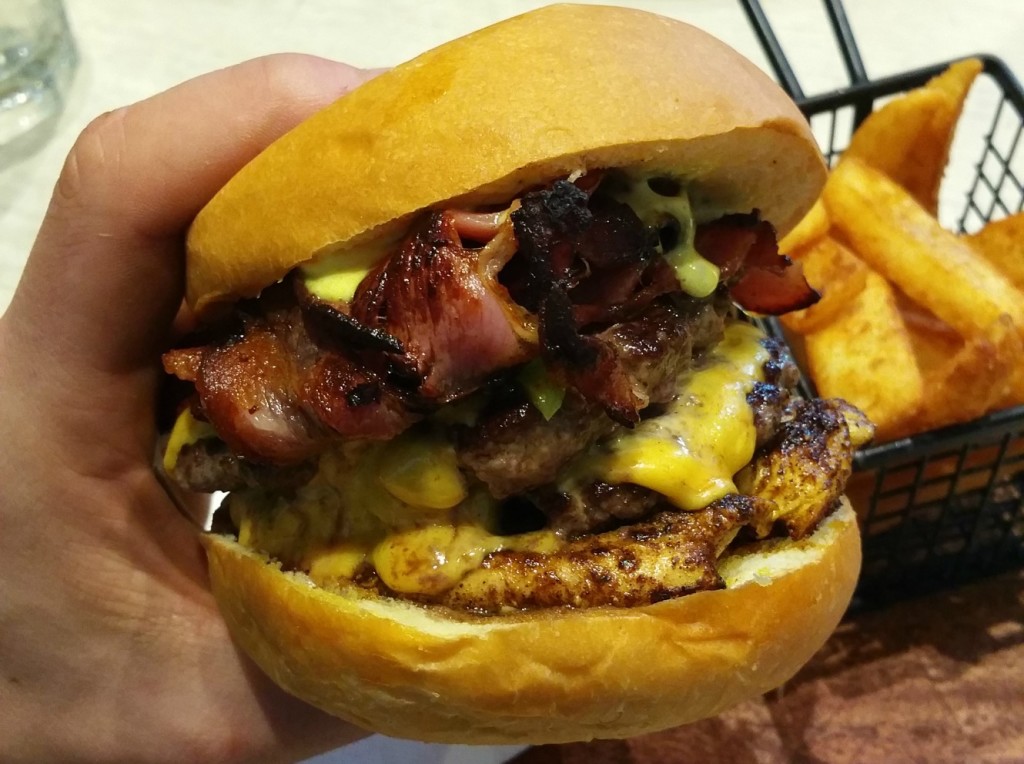 The Experience: I headed down towards the Richmond precinct on Saturday for a bite to eat. As there are many options available with burgers shops that have popped up in the area, I went with a cafe experience to change it up. As I walked into cafe Three One 2 One (a clever use of the postcode) I was greeted with friendly staff, ample seating and a fresh vibe. These guys dropped a new menu not too long ago, giving plenty of fresh options to choose from for breakfast, lunch and dinner. The coffee quality was top notch and the venue is fully licensed.
Burger Ordered: The Ghetto Burger w/ Chicken and Bacon
The Taste: A structurally sound, delicious-looking burger on arrival, I wasted no time getting into this. The beef was cooked medium with a dash of pink throughout the patties. It had a nice, fresh, meaty flavour, and the cheese was melted perfectly over each patty. One of the stand outs was definitely the Moroccan chicken. The flavours that punched out were unique and delicious, adding another element to the burger. I was unsure on whether to add bacon for $4.5, but I'm glad I did! It was an ample serving and was cooked crispy to my liking. All burgers come with a side of fine tasting chips as well.
The Verdict: I am always a little wary having burgers at a cafe, as they come with a cafe price and can be hit or miss. But the quality that was pumped out left me with no issue paying it again and again. I left very impressed and recommend you drop on down.
Three One 2 One is located at 424 Bridge Road in Richmond, Victoria, Australia.
Check out more Australian burger adventures at Damoforce.
Sign up for Burger Weekly email updates!