The Experience: Thistle Hill Tavern is a large, popular dinner spot in Brooklyn's Park Slope.  Like most things in Brooklyn, it attracts a casual yet cool crowd with its casual yet cool decor. They boast bar food done right, their mussels particularly loved by their patrons.  Their burger is an organic, grass-fed beef patty on a potato roll, served with salt & pepper french fries.  My high hopes were dashed when on element of the burger bullied its way over all the others:
Burgers Ordered: Hamburger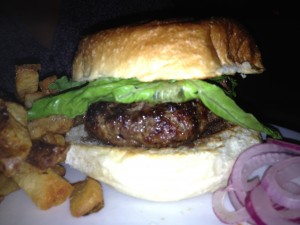 The Taste: The pepper in this burger ruined everything. The burger was suitably juicy, the frist were suitably crunchy, the bun was perfectly acceptable and the lettuce and onion that came with the burger complimented it just fine.  But that pepper was so overwhelming it was like a bomb going off in my face, distracting me from the otherwise fine burger.  Perhaps the wo/man behind the grill wasn't paying attention, or perhaps this is how Thistle Hill Tavern prepares their burger on the regular.  Either way, this Burger Adventure was a lesson in how one ingredient can completely change someone's opinion of a burger.
The Verdict: I really enjoyed my taste of the southern fried chicken at Thistle Hill, so there are reasons to scope out this joint. The burger just isn't one of them.
Thistle Hill Tavern is located at 441 7th Avenue at 15th Street in Brooklyn, New York.