Burgers Ordered: Little Bopper
The Experience: Nestled in the heart of downtown Boyne City, Thick 'n Juicy promotes itself as "Your Friendly Local 50's Diner!" It does a decent job of that, with some '50s paraphernalia scattered around the walls, and menu items like The Big Bopper (double patty) and The Little Bopper (single patty). Unfortunately, the sounds emanating from the radio were not the hits of Elvis Presley, Buddy Holly, and the namesake of their most popular burger, but rather a local country music station. This definitely takes away from the ambiance of the establishment, which in the summertime is one of the busiest places in town.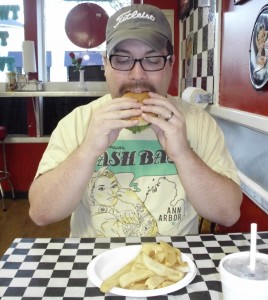 The Taste: Despite the aural confusion, the taste of the burger was excellent. Thick 'n Juicy never really asks how you want your burger, since it is a quick-serve establishment, but the burgers are generally reside comfortably between burnt to a crisp and bloody as hell. The bacon on top of the Little Bopper was perfectly done and added to the taste very nicely. Other available toppings include the standard mushrooms, onions, tomato, lettuce, and cheese. The French fries that come with the basket are the standard large steak fries, but are elevated to something special by the mystery Thick 'n Juicy Steak Fry Sauce. No one is quite sure what it's made of – guesses range for ingredients somewhere in the neighborhood of mayonnaise, liquid smoke, and A1 Steak Sauce – but however they do it, the sauce is a real highlight of any visit to Thick 'n Juicy.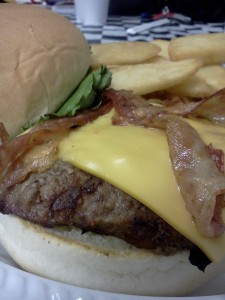 The Verdict: Despite its unfortunate name, Thick 'n Juicy is a rather enjoyable experience at a reasonable price. The ambiance could use a little work and the Waiter Culture isn't always top notch. But the burgers are solid, and the steak fry sauce would make cardboard a delectable treat. Thick 'n Juicy is certainly worth the trip.
Thick 'n Juicy is located at 104 Water Street in Boyne City, Michigan