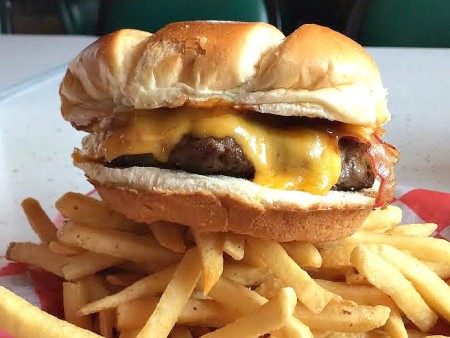 Last August, Jake's Place Tavern changed ownership, and a rebranding followed in the early part of 2016. While it appears that the changes have been minimal, just looking at the name makes it evident that the new ownership is putting a lot of effort into the whiskey and bourbon stock. Since I visited on a lunch break from work I was not able to sample any of these offerings, but a burger certainly seemed apropos.
Burger Ordered: BBQ Bacon Cheeseburger
The Taste: Burgers at the Whi-Ski Inn are 1/3 lb. ground beef, and the BBQ Bacon Cheeseburger obviously comes topped with BBQ sauce, bacon, and choice of American, cheddar, Swiss, or pepper-jack cheese. I went American, because this is America isn't it? While I ate the Jake's Place burger quite a while ago, I felt that this burger was fairly similar – and that's not a bad thing. Maybe they retained the same cooks in the changeover. At any rate, this burger was done a little bit more than medium rare, but it was tasty and well put together.
The Verdict: It's not in the upper enchelon of northern Michigan burgers, The Whi-Ski Inn provides a very solid burger at a good price in a friendly atmosphere. Next time I'll have to get one of the special bourbons or whiskeys they offer.
The Whi-Ski Inn is located at 2670 US-131 South in Boyne Falls, Michigan.
Sign up for Burger Weekly email updates!