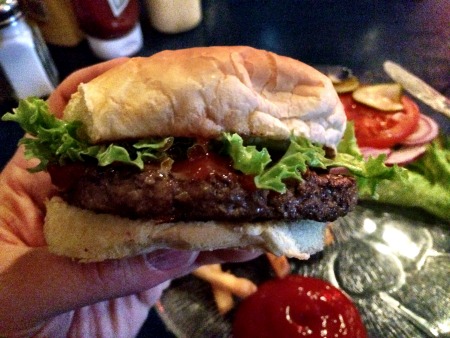 The Experience: The Villager Pub has a very convenient location on a corner in downtown Charlevoix, a town that positively explodes in the summertime. Another convenience in this location is that it is right around the corner from the Charlevoix Cinema, a recently renovated three-screen theater that shows the best mix of audience and critical pleasers north of Traverse City. The Cinema and the Villager partner for a Monday night "Dinner and a Movie" special during the slower winter and spring months, and once a year they go a step further and offer this special for free as a form of customer appreciation. As a lover of both burgers and movies (my fellow Burger Adventurer and I chose the film Furious 7 by the way), this was a deal too good to pass up.
Burger Ordered: Hamburger
The Taste: The only drawback of the free promotion was the lack of options for the burger, but I decided to focus on the positives and just focus on the burger as it was. I decided not to pay extra for cheese, as it is rare that I eat a burger without it and I wanted to give it a shot and stick to the "Dinner and a Movie" menu. And I was pleasantly surprised and how I did not long for the burger's most common melty accompaniment. The Villager has been in business for nearly three decades, and you don't get that kind of longevity without knowing how to make a burger, and they proved it here. The plain burger had few distractions and offered pure beefy goodness between a soft bun, cooked to just the right degree. This overcame my no-cheese pre-prejudice, and that's certainly commendable.
The Verdict: The Villager Pub is a Charlevoix institution and with good reason. They have a varied menu that features a rock-solid burger and a friendly wait staff that ensures I will return in the future.
The Villager Pub is located at 427 Bridge Street in Charlevoix, Michigan
Sign up for Burger Weekly email updates!