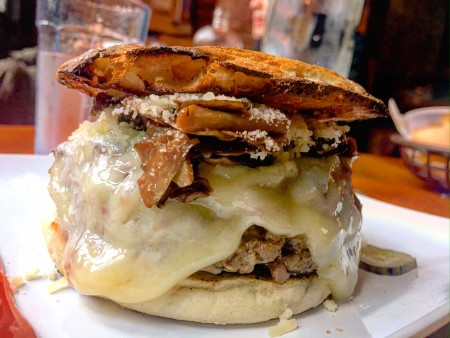 Last Saturday, it poured rain all afternoon. As such, I wasn't willing to travel more than two blocks away from my apartment for a burger and ended up at the Supply House. I'd noticed during an earlier visit that there was a decently sized burger menu there, so I figured it was as good a place as any go explore. The most interesting burger on their menu is Hot Coffee Burger. But I don't drink coffee so I had no interested in a coffee-crusted burger.
Burger Ordered: Supply House Burger
The Taste: Topped with Swiss cheese, sautéed mushrooms, and garlic parmesan butter, the Supply House Burger sits on a toasted English muffin. The muffin looked a little bit suspect to me, but it was much more moist and pliable than it appeared. The cheese and mushrooms paired very nicely together, and provided a nice gooey counter to the crunchy bun. The burger was ordered medium rare, and though it came out a bit overcooked it was still quite juicy. I appreciated that, but have to admit that without the flavorful toppings and condiments, this burger would have been more glaringly under-seasoned.
The Verdict: While not the best burger in the neighborhood, the Supply House's focus on burgers is respectable. They also serve really addictive fries, which is always a plus.
The Supply House is located at 1647 2nd Avenue in Manhattan, New York.
Sign up for Burger Weekly email updates!