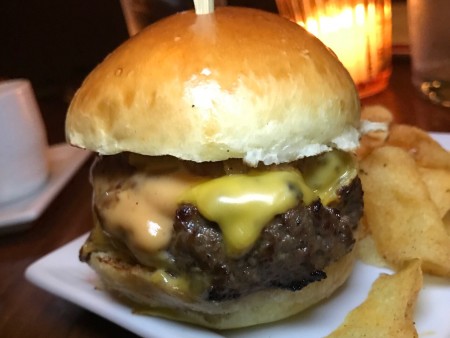 It strikes me as strange that, from time to time, I eat a burger that I was sure I'd reviewed for this blog before, only to be proven wrong. The mini burger and its variants at Stanton Social fall into this perplexing category. The restaurant has been open for about twelve years on the Lower East Side, and when I walked inside I was surprised to find I'd never eaten there. What restaurant did I think that Stanton Social was? I can't say, but I can say what I thought about the burger. 
Burger Ordered: Charred Kobe Beef Burger
The Taste: The Stanton Social calls all of their burgers sliders, but we know that these are mini burgers. They have mini philly cheese steaks (which are incredible), mini lobster rolls and a mini veggie burger as well. And I have to say, I was pretty taken with their mini Kobe burger. Topped with American cheese, caramelized onion, bits of bacon, and special sauce, this little guy packs a hell of a flavor punch. Is it a little steep at $9 for one little burger with no sides? Sure, but the whole menu scales up like that, so you know what you're getting into.
The Verdict: I think a mini burger dessert is in order if you ever find yourself at dinner at the Stanton Social. What's another 9 bucks on top of the rest for a delicious little treat?
The Stanton Social is located at 99 Stanton Street in Manhattan, New York.
Sign up for Burger Weekly email updates!