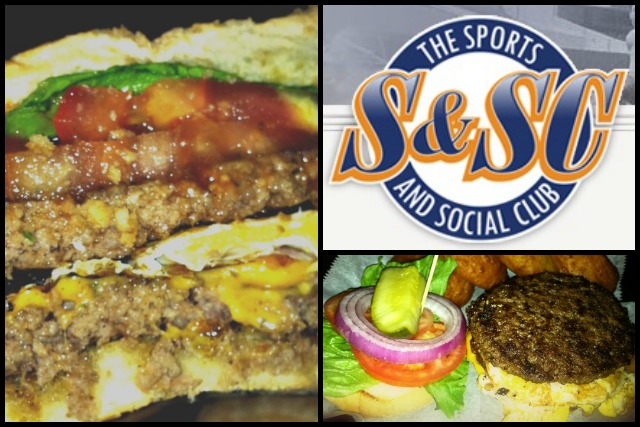 The Experience: I was told that when it comes to food in Louisville, Fourth Street's where it's at. I went for a run to check it out and while most of the restaurants seemed pretty chain-y to me, it was a cool scene and definitely seemed like the place to be downtown. I asked a few people and they all told me that The Sport and Social Club was the best restaurant and that I should definitely go there. Ok, I couldn't argue with that.
I headed back to Fourth Street at around 8pm and was ready for my dinner at The Sport and Social Club. I looked at the menu outside and it looked decent (typical bar food) so I walked in to ask for a table. As soon as I walked in, I immediately turned around and walked out because I saw that SASC was a bar, restaurant, and also a bowling alley. I'm not sure how I feel about eating in a bowling alley so I wanted to check out my other choices before committing. After looking around, I realized that everyone had been right… SASC really did look like the best place to eat on Fourth Street. So, I sucked it up and walked back to ask for a table. I asked to be seated outside though so that I didn't have to stare at the bowling alley situation during my dinner.
My waiter was very nice and walked me through all of the best items on the menu. He kept saying over and over that they have the best burgers and so even though I'd had a burger for dinner the night before, I decided to order another. I asked the waiter which was best and he said, "well everyone really likes The Trainer because it has a fried egg on it, and well… everyone loves fried egg." He's totally right. Everyone really does love fried eggs. Myself included. I love a good fried egg.
Burger Ordered: The Trainer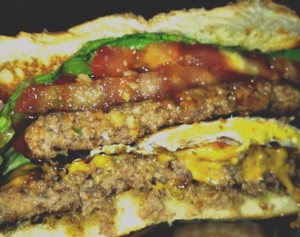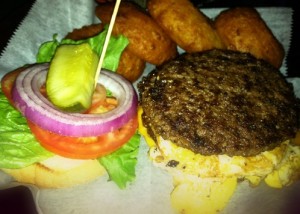 The Taste
: So, The Trainer it was. It comes with two patties, a fried egg, bacon, cheddar cheese, and french fries on the side. I decided to forgo the bacon and also trade up for onion rings (they're $1 more). I think it was a good choice on my part.
My meal came out in just a few minutes and though I wasn't really expecting much (the whole bowling alley thing was still in my head), it was actually very good. loaded up on ketchup and enjoyed every bite. Now that I think about it, my waited never asked me how I wanted my burger cooked, but it came out medium, just the way I like it. I thought the egg was a little overcooked (I like a little yolk action), but maybe that would have been a sunny side up egg, rather than a fried egg? IDK. All-in-all though, really solid burger.
And really good onion rings too. They were HUGE and delicious dipped in ketchup. I would have loved another sauce to dip them in as well, but that is just me getting picky.
The Verdict: I'm still not too keen on eating in bowling alleys, but whoever recommended SASC to me was right. It's definitely a good spot in a great location in Louisville.
Read more from Stefanie at 24 Dollar Burger.
The Sports & Social Club is located at 427 South 4th Street in Louisville, Kentucky.