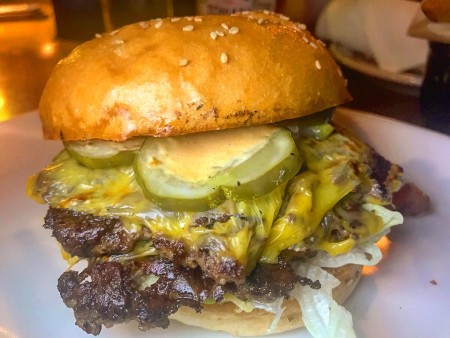 I walked into the Spaniard and noticed that half of the restaurant was filled with groups of attractive women watching the U.S. Open. When my friend Jaime of the Burger Babez showed up to join me for a burger, she told me that she typically sees groups of attractive men hanging out at the Spaniard. So, I guess the moral of that little anecdote is you can find all manner of attractive people here. That's fun, but burgers are more fun, and this one was great. 
Burger Ordered: Smash Burger
The Taste: This burger is simple enough; two smashed patties, American cheese, lettuce and pickle on a sesame seed bun. Though it would mean a lack of burger diversity, I wouldn't be terribly upset if every restaurant cooked their burgers this way. As I've said so many times before, smaller smashed patties means more of that crispy, flavorful grilled outside. It also means less of a risk of a seasoning-free, bland inside. Sure, rare meat freaks won't get their fix, but the sharp flavors of this burger might be worth missing out on all that pink.
The Verdict: This burger is a total winner, and I'll definitely be back in the future to try the patty melt.
The Spaniard is located at 190 West 4th Street in Manhattan, New York.
Sign up for Burger Weekly email updates!