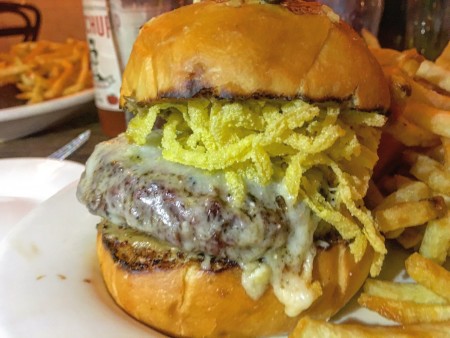 I'm pissed off. I've reviewed the Smith twice before (here and here). The first time I had the burger there, it was crazy juicy and made a huge mess. The second time I went I used a Burger Lift, but it didn't end up needing it because the burger was dry. Well this time around I splurged for their dry-aged burger (I didn't even know they HAD a dry aged burger), ordered it medium rare, and settled in for what I assumed would be a nicely cooked meal.
Burger Ordered: The Prime Burger
The Taste: The Prime Burger is a 28-day dry-aged patty topped with gruyère cheese, overnight tomatoes, crispy onions, and wild mushroom fondue on a melted parmesan bun. Somehow this burger managed to be a combination of the last two burgers I'd ordered at the Smith; it was both messy and dry. If I'm going to drop six more dollars on a supposedly higher quality burger, I think it's unacceptable that it be overcooked. To be frank, this burger had a lot of potential and it was all squandered. All of the toppings were a lot of fun, but with a crumbly, overcooked patty, none of that matters. The bun was the best part of the thing, and while sometimes that's a fun surprise, in this case it's because the beef really failed.\
The Verdict: I haven't written an outright negative review on this blog in a long time, as I usually just don't write about a burger if I'm disappointed by it. But a lot of people go to the Smith, and those who do need to avoid spending extra dollars on such an unspectacular burger.
The Smith is located at 1150 Broadway in Manhattan, New York.
Sign up for Burger Weekly email updates!