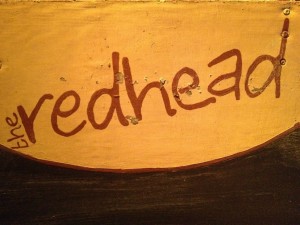 KBF.
Burgers Ordered: Jacki – Our Burger
The Experience: On her second burger adventure, Jacki met Brad in at the Redhead in the East Village, nearly a year after her first Burger Weekly experience at Social Eatz. She had heard great reviews of Redhead's grub, specifically their burger and their fried chicken. So, when Brad and Jacki sat to dine, there was no question that they were going to order those two specialties.  The burger, topped with melted white cheddar, made Jacki's mouth water and she couldn't wait to bite into it. Although she was overwhelmed by its girth, Jacki kept her composure and calmly took her first bite.
The Taste: The sweetness of the brioche bun paired perfectly with the savory and succulent taste of the patty. The beef was so flavorful and well seasoned that she enjoyed her meal without the condiments that came on the side. Along with the burger were a generous amount of waffle chips and 2 half sour pickles that provided a perfect crunch. The chips were tasty, if a bit too salty for Jacki's taste. Brad had no problem stealing them away from her.  He also agreed through his one bite that the burger was a tender delight.
They also highly recommend the fried chicken, which was outstanding.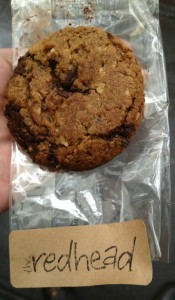 A complimentary oatmeal cookie caps a delicious meal.
The Verdict: Although she scarcely eats hamburgers, and is admittedly no connoseuir like the Burgermeisters, Jacki felt comfortable assuring all The Little Meisters that this is not a burger to be missed!
The Redhead is located at 349 East 13th Street on the corner of 1st Avenue.