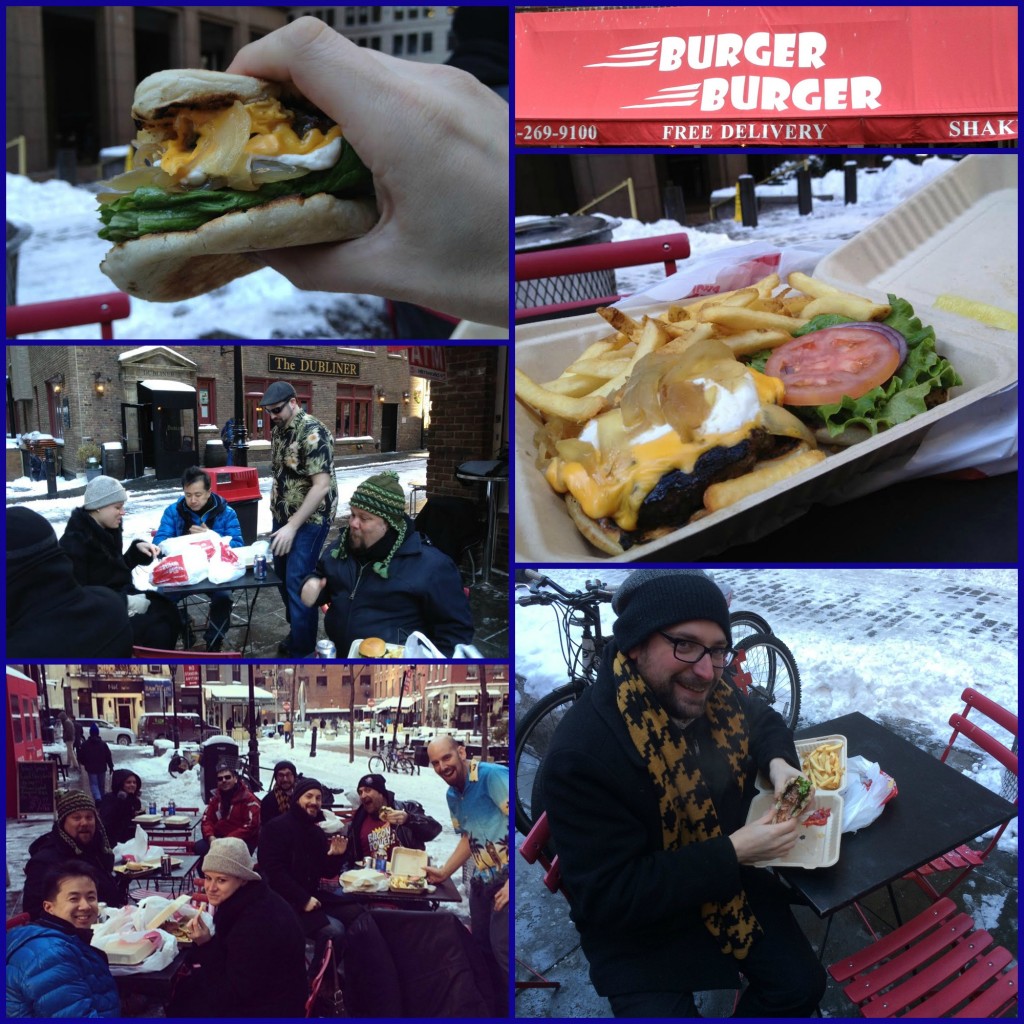 Rev Ciancio, Marketing Director of Burger Maker and madman behind Burger Conquest, has for the last four years organized and overseen the Polar Brrrger Club. Meeting each year after snow overtakes New York City, Rev has encouraged (but not required) Brrrger Club participants to wear Hawaiian shirts and sunglasses, the first three annual events all took place at Shake Shack. Now that Rev is working with Burger Maker, the event was moved to a spot that serves delicious Burger Maker meat. Burger Burger fit the bill, and since it was going down only a block from my office, I felt that I had to attend. Was I afraid of eating in the cold? Maybe, but my love for burgers runs deep.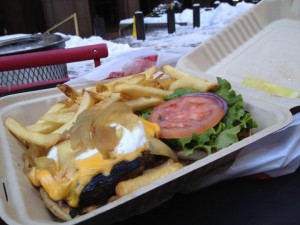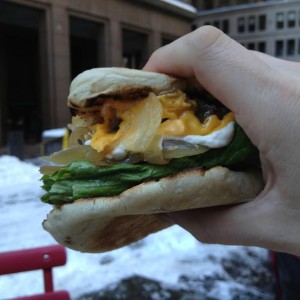 Yesterday it was 16 degrees Fahrenheit, and it felt like 2 degrees with the windchill. My place of work and Burger Burger are both criminally close to South Ferry. I say criminally close because this has to be the coldest part of Manhattan. Wind whips off of both the Hudson River and the East River, making the air frighteningly cold. How did this influence my Burger Adventure? Well I can tell you that, having had and reviewed Burger Burger before, the burger stand serves up a competent patty. That said, eating in the cold is a whole different animal. I scarfed this thing down as fast as I could, fries and all, as my fingers started to freeze and stiffen. I may be from Michigan, but I'm not accustomed to eating outside with no gloves on.
The Polar Brrrger experience was a fun one. I'd be willing to do it again next year, after the memory of my frozen fingers fades into the ether of my mind. But once it warms up, give Burger Burger a shot. Also, keep an eye out for Rev's burger antics going forward. They tend to be a lot of fun.