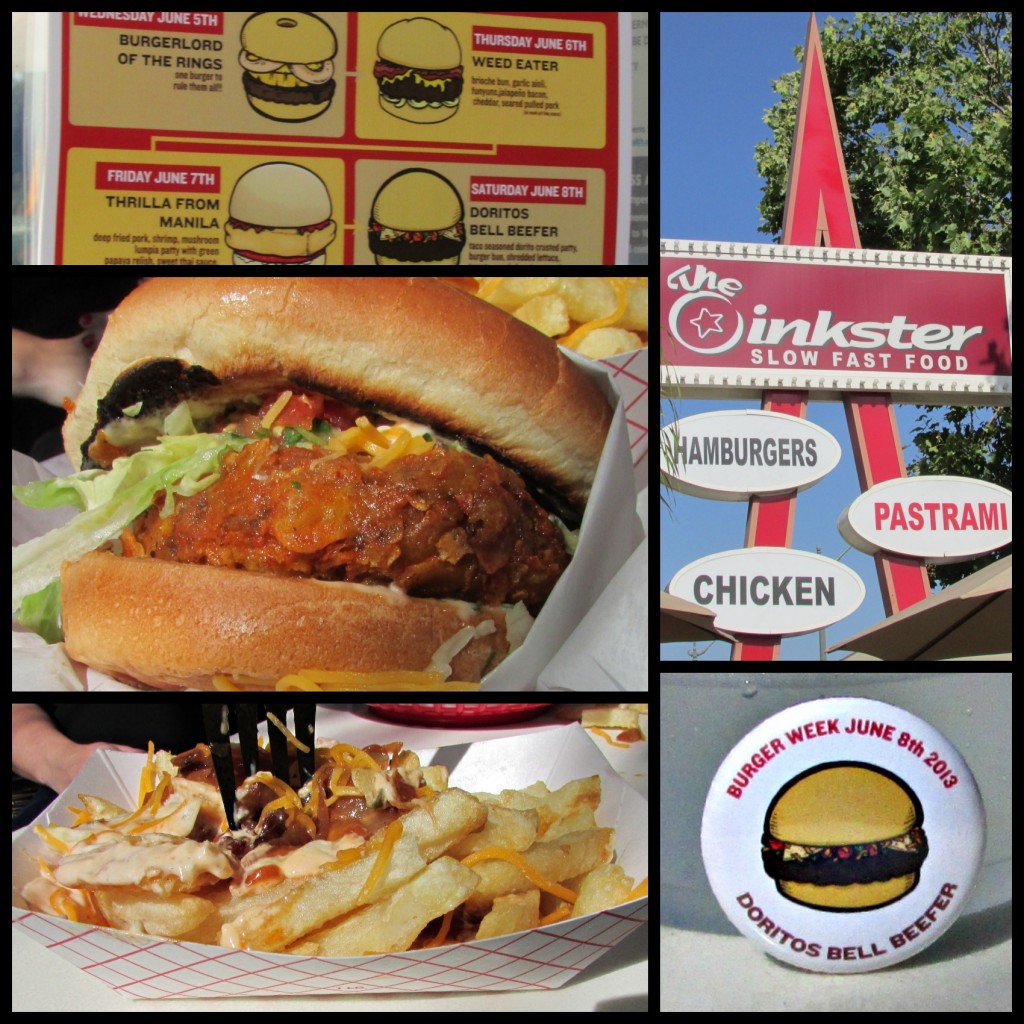 The Experience: In May, hamburgers were on the mind of the entire nation. National Hamburger Month gave us burger events galore, and showcased true appreciation of American Burger Lovers everywhere. In Eagle Rock California, however, the month of May wasn't enough, and the Oinkster's second annual June Burger Week was in full swing.
Burger Week is when the Oinkster serves unique burger creations for one day only. They started the week with the Oinkonator, their take on a Wendy's Baconator. Tuesday was the Nino Grande, a tribute to Bob's Big Boy. Wednesday was the Burger Lord of the Rings, a burger topped with onion and pineapple rings. Thursday was the Weed Eater, Grill 'em All's contribution to Burger Week. Friday was the the Thrilla from Manila, a Filipino burger. We arrived on Saturday and were ready to eat the Doritos Bell Beefer, the Oinkster's take on Taco Bell's long-gone Beefer "Burger." Though the line was out the door, it moved quickly, and the weather was nice enough that it wasn't difficult to wait through.
Burger Ordered: The Doritos Bell Beefer
The Taste: The Oinkster has to be commended for one thing in particular; when they want to give you a specific experience, they bring you the genuine article. This burger SMACKED of taco flavor. The beef patty was juicy, and seasoned to absolute taco specifications. The ranch dressing and rabbit food toppings only served to enhance the Taco Bell vibe.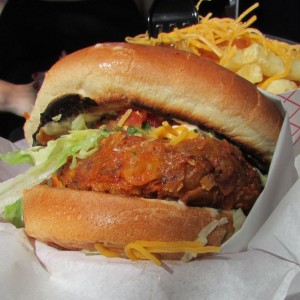 While we appreciated the effort that went into making the burger fit the theme of the day, we were most satisfied by the Oinksters Piggy Fries. Topped with shredded cheese, grilled onions and sauce, these fries were a decadent and messy trip to heaven. The Doritos Bell Beefer won't be on the menu by the time you get a burger at Oinkster, but these fries will and they are a must-have.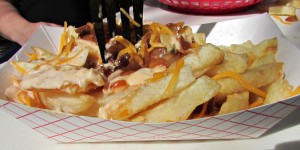 The Verdict: The Oinkster gets huge points for authenticity and bold flavors. They get even more points for the stellar Piggy Fries. Burger Week may be over, but no doubt there are still fun things going on at the Oinkster.
The Oinkster is located at 2005 Colorado Blvd. in Eagle Rock, California.