Burgers Ordered: Bacon Cheddar Cheeseburger and Bacon Gruyere Cheeseburger
The Experience: Burger Weekly concludes its three-week Daniel Boulud investigation with a look at the restaurant that he most likes to visit for a burger. Boulud calls the Odeon a 30-year tradition of making a "kick-ass burger." As it turns out, the Burgermeisters agree.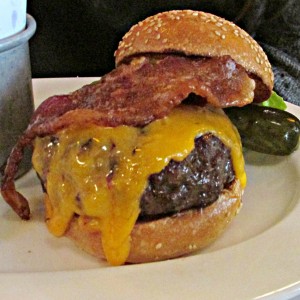 The Taste: The bacon cheddar cheeseburger was incredibly juicy and downright delicious. The cheese was in perfect proportion, melting down the sides so that it was tasted in every bite. The spicy mayo served on the side was completely unnecessary because of the powerful flavor of the burger, but it was enjoyed nonetheless. The bun was toasted and buttered in expert fashion, as well.
The Gruyere burger was just as good as the cheddar. It was tender, juicy, and pink in all the right places. The bacon was some of the best eaten in the history on Burger Weekly, really putting the Odeon's burger on an elite level. The Burgermeisters were tempted to write this entire review on the Odeon's bacon, because it was so good that it almost made them faint.
The burgers were augmented by fresh baked, warm doughnuts and crispy french fries. The fries were seasoned in the tastiest fashion and tasted amazing in the spicy mayonnaise. The doughnuts were soft and sweet, and blew the Burgermeisters' minds when dipped in the decadent maple syrup.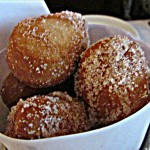 The Verdict: Did Daniel Boulud shoot himself in the foot when he recommended this burger? Maybe, because the Burgermeisters preferred it to the burgers at DBGB and db Bistro Moderne (which were excellent in their own rights). This one is a definite early contender for the best burger of 2013.
The Odeon is located at 145 West Broadway at Thomas Street.