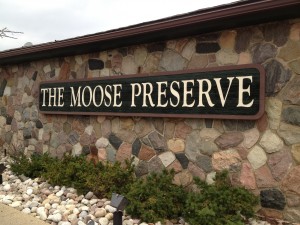 Burgers Ordered: Beef Burger & Buffalo Burger
The Experience: Little Meisters, we apologize. This Burger Adventure has just been sitting in our archives for ages, and it's truly a crying shame that we haven't posted it for you yet. Last October, Burgermeister Brad went to Michigan to watch his little sister get married. Knowing that dinner wouldn't be served until quite late, he gathered a few of his high school friends and his cousin (who served as a Guest Burgermeister at Veselka) and paid the Moose Preserve a visit. Brad remembered the burgers at the Moose Preserve fondly from his childhood. But that was when he was a burger boy, and since creating Burger Weekly he had become a burger man. How would the burgers measure up in his adult brain?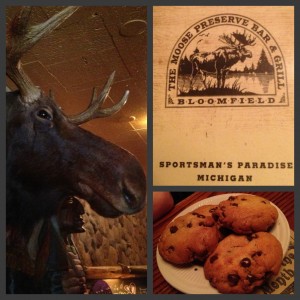 The Taste: Ryan ordered the buffalo burger, and said that the meat was juicy despite being lean and cooked medium. He found the burger to be delicious, really enjoying the bacon and cheddar combo and calling it a classic combination for a reason. The bun was thick but soft, and tough enough to handle the burger's juices. Brad felt largely the same way about his beef burger, saying it was almost exactly the way he remembered it from childhood, and probably almost as good as the Redcoat Burger, which is cooked on the same street, just a few miles away on Woodward Avenue.
It also turned out that a pre-wedding Sunday meal was the most fortuitous setting in which to have a burger, because the Moose Preserve serves free cookies with lunch on Sundays. They tasted delicious, even after the succulent burgers and solid steak fries had been consumed.
The Verdict: If you're free on a Sunday, the Moose Preserve is a great place for a tasty burger and a free cookie. If you're free any other day of the week it would be worth going as well, but who doesn't like a free cookie?!
The Moose Preserve is located at 43034 North Woodward Avenue in Bloomfield Hills, Michigan.