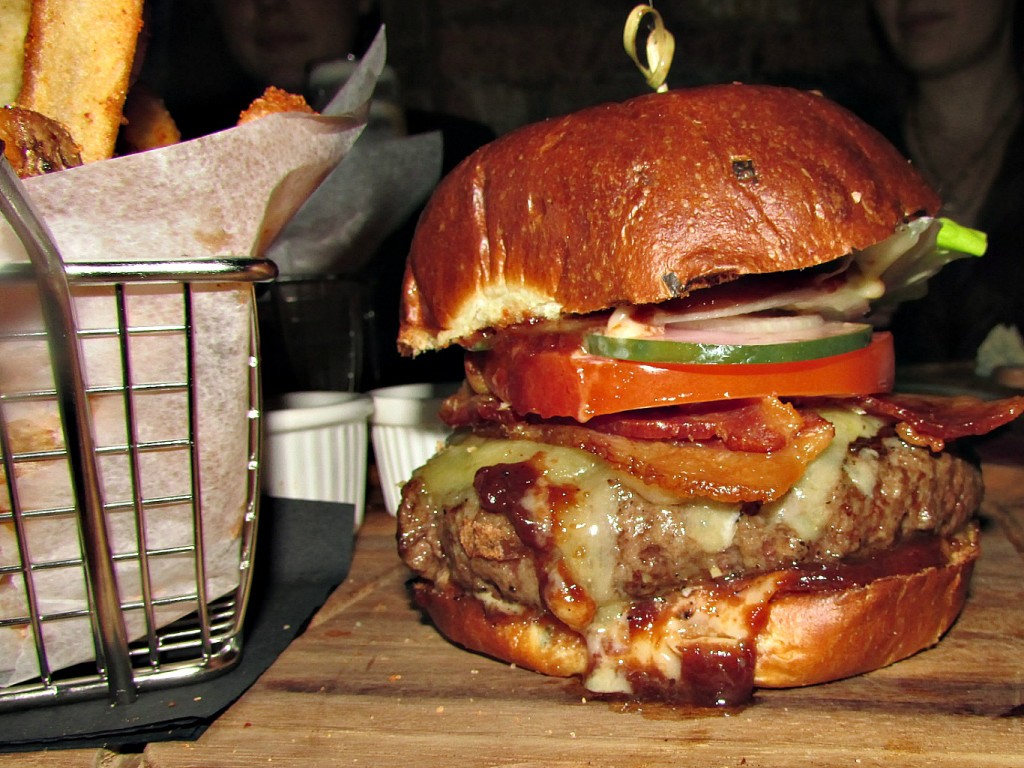 The Experience: My position on ketchup as a topping for burgers is rather well established; I don't think it belongs. It's sweet and overpowering, so I typically only use it when a burger is otherwise unpalatable. For that reason, I was skeptical when my friends at Thirsty NYC insisted I try the Ballymaloe Burger at the Late Late. Granted, I had tried Ballymaloe ketchup before and really enjoyed it, but the burger I cooked and put it on in my home (in this case a post-freezer burn patty on two pieces of whole wheat bread) was a far cry from the worthy beef patties being churned out by New York City's dining establishments. However, at the remarkably low price of $10, it would have been foolish of me to at least give it a try.
The Late Late felt like your grandma left town for the winter, allowing her place to be taken over and turned it into a bar. As such, it had a very warm and invited vibe. That was amplified by the wonderful folks working at the joint. Most of the menu consisted of classed-up Irish pub fare, all of which I found delicious. The crisp sambo consisting of potato chips, ketchup, and cheddar mayonnaise reminded me of the potato chip pita sandwiches I made as a kid. But that sandwich had no meat in it, and you're here to read about burgers.
Burger Ordered: The Ballymaloe Burger
The Taste: The porterhouse beef patty was topped withDublin cheddar and (of course) Ballymaloe stout ketchup, as well as applewood smoked bacon. The burger is aptly named, as the ketchup is front and center. Thankfully, the stout variety has always been my favorite Ballymaloe condiment, so I wasn't outright offended by the presence of ketchup. To be honest, it actually didn't bother me at all, as the beef found its way as I chowed through the burger, and the bacon was salty enough to balance the sweet ketchup dripping all over.
If I had it to do over again, I'd probably ask for them to go lighter on the ketchup, but not to remove it from the burger entirely. I know that sounds sacrilege, but hear me out. The ketchup is served warm, so it doesn't cool down the whole burger like at other joints with the table sauce served on the patty. It's also not as sweet as Heinz or as clumpy as Sir Kensington's. This burger has a time and place, and that place is (and this is important) served up next to the delicious fries at the Late Late.
The Verdict: For those of you who like ketchup on your burger (and sadly, I know there are a lot of you out there) this is THE burger for you. And for skeptics like me, it's definitely worth a shot.
The Late Late is located at 159 East Houston Street in Manhattan, New York.