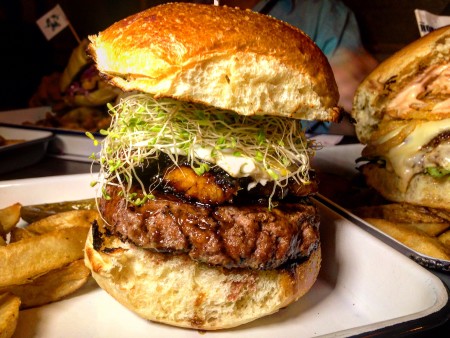 The folks who opened this place also opened a restaurant in Murray Hill called the Flying Cock, so you know where their heads are at. Luckily, part of that bro-pun way of thinking predictably leads to a robust burger menu at this restaurant, which I'd never complain about. What I liked most about the restaurant was that it looked and smelled like a house that had just finished installing the wood paneling all over. I love that smell, but you're here to read about burgers.
Burgers Ordered: The Double Smashed Burger and the Pork Belly Burger
The Taste: I'll get the Pork Belly Burger out of the way first because it was a special and I'm not sure if it's still available even. It came topped with thick, sauced pork belly, cheese and sprouts. The pork was delicious, but the sprouts were problematic. They kept getting stuck in my teeth and didn't add much flavor to the experience. I've never really liked sprouts on a burger.
The Double Smashed Burger was fantastic, though. Two patties meant more seared meat coverage. The sauce and abundant cheese were unbelievable. One of my dining companions suggested we add fried onions to the burger, which turned out be really important as they added an essential crunch. I highly recommend you add fried onions.
The Verdict: The big winners here are the Double Smashed Burger and the Brussels sprouts (with chorizo!). Ignore the silly name and head on over to grab this grub.
The Horny Ram is located at 951 2nd Avenue in Manhattan, New York. 
Sign up for Burger Weekly email updates!