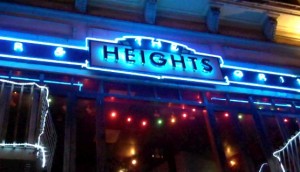 Gluttony, thy name is The Heights.
Burgers Ordered: Gabe, Brad, Matt, Christopher, Simon, Kathryn – The Baller Burger; Frankie – The John Bull
The Experience:  The history of how this week's Burger Adventure came to be was documented in this video:
Now, a lot of that footage is dark, because the Heights is only illuminated by candles and the light that pours through the windows.  That might not be true but the Burgermeisters want to believe that it is.  So here are a few pictures of the Burger Adventure.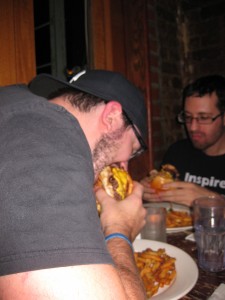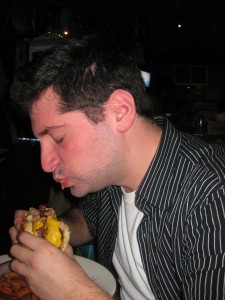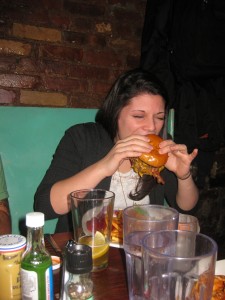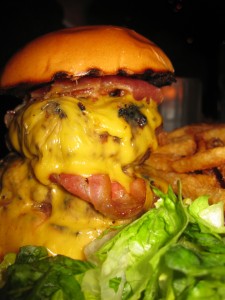 Nothing pretty here.  The Baller Burger's first bite is a challenge in and of itself.

The Taste: The Baller Burger is massive, and a lot of the Burgermeisters and guest Burgermeisters were concerned with finishing it as much as they were with savoring its taste.  That said, opinions were stated.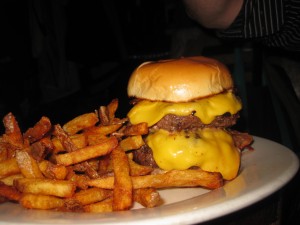 A less messy picture of the Baller Burger.
Christopher said that his top patty was cooked to perfection (medium rare, duh) but that his bottom patty was a bit well done.  Kathryn said that it tasted as though there was a bit too much pepper in the patties, while Matt felt that the fries were too salty and that they filled his Second Stomach too quickly.
Brad thought the burger was perfect.  He made it clear that this wasn't the best burger he's ever eaten, but for a burger that is obviously meant to fill the belly more than its meant to please the taste buds it does a good job of doing both.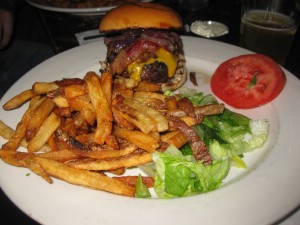 The John Bull.
Frankie was the only pooper to get the John Bull Burger at the Baller Burger Challenge.  We're all actually a little disappointed in Frankie, because when Kathryn joined the challenge Frankie became the only person at our table without a Baller Burger.  Karma reared its ugly head when her burger came charred on the outside, making it impossible for her to finish. On the other hand, it gives the Burgermeisters the opportunity to mention that the Heights is more than just a one-burger pony. They have a menu full of diverse burgers.
Verdict: The Burgermeisters were proud of every Guest Burgermeister, because everyone completed the Baller Burger Challenge.  It looks like they'll have to find an even bigger burger the next time they want to test their stomach capacity.
The Heights is located at 2367 Broadway on the corner of 111th Street.